Honeymoon proves to be a dream come true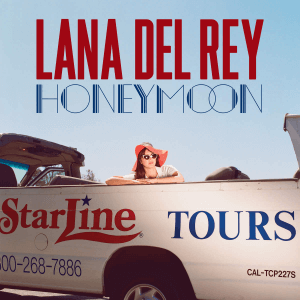 Lana Del Rey took the world by storm in 2012 with her debut album Born To Die. It was followed by Ultraviolence in 2014, and expectations for her third album, Honeymoon, which released on Sept. 18, were set high.
Unlike many artists, whose debuts tend to be their best work before they degenerate into mediocrity, Del Rey only gets better with time. She's essentially a human fine wine, so to speak.
Del Rey is known for her amazing contralto vocal range and questionable lyrics. In Born To Die and Ultraviolence, there are an insane amount of lines about love, sex, money, drugs and codependency; however, Del Rey has a talent of making everything sound beautiful. She could sing the limit theorems in my AP Calculus book and I wouldn't complain.
Honeymoon is definitely way more cinematic than its predecessors. The "Hollywood sadcore"  — alluding to her gloomy movie soundtrack-esque style — she became known for is eminent in songs such as "Salvatore," arguably one of the best songs off the LP (she sings in Italian, for God's sake), "Freak," and "24," which is reminiscent of "Habanera," from the opera Carmen by Georges Bizet.
"The Blackest Day" is notable for being a grown-up version of the tracks off Born To Die, while "God Knows I Tried" heads into a more neo-Nancy Sinatra sound, neither of which are bad things, really.
The album could essentially be a soundtrack to a revival of one of the old Bond movies. It's astounding how one can make nihilism, codependency and absolute sadness sound so appealing.
If I could marry this album, I would. I would marry it, and take it on the honeymoon it deserves. No pun intended.