Mac DeMarco: the laziest man who was ever able to pull off a career in music
Among the many talented musicians in the indie music scenes of Montreal and New York, one of the few to actually gain some recognition in recent years is Canadian-born singer and multi-instrumentalist Mac DeMarco. Through his uniquely lazy, slacker lifestyle (which is highly prevalent in his music), he has gained popularity among many like-minded people in behaving himself something like a real-life version of The Dude from The Big Lebowski.
After graduating high school in Edmonton in 2008, DeMarco moved to Vancouver and attempted to start a career in music there. He called himself Makeout Videotape and self-produced and released one album called Heat Wave, which sold out its 500-unit run. After a couple other tries with unsuccessful bands, he finally moved to Montreal to record music alone again.
It was a while before he was able to sign to a record label and make some money off his music. In 2012 he released two albums:  Rock and Roll Nightclub and 2, on the label Captured Tracks. 2 was DeMarco's first full-length album and received positive feedback, earning Pitchfork Media's "Best New Music" title.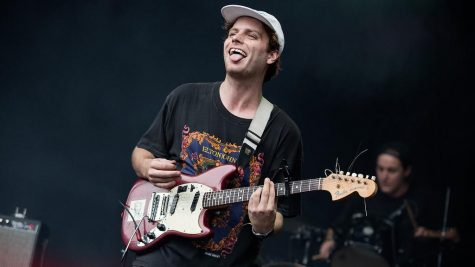 Demarco's highly-anticipated album Salad Days was released on April 1, 2014, and was immediately very successful. Also earning Pitchfork's "Best New Music" designation, Salad Days took DeMarco to new heights. He toured extensively for the next year and a half, playing everywhere from big festivals like Pitchfork Fest and Bonnaroo to little venues all over the world.
On Aug. 7, DeMarco released a mini-LP called Another One. The album, barely passing the 20-minute mark, is his most melancholic release to date. As DeMarco himself described it in an interview with NPR, "It's all love songs this time. It's just kind of like every angle of how somebody may feel if they're having strange feelings in their chest." The album is comprised of eight songs all between two to four minutes long which feature DeMarco's signature clangy guitar tone, bouncing bass lines, jazz organs and keyboards, and lyrics which show his maturation as an artist and human being.
The album is instantly gratifying. Upon the first drumbeat of "The Way You'd Love Her," the mood of the rest of the album is already set. Another One is the kind of album that you could just listen to over and over again and it would trigger the same emotions each time. It just feels great to listen to.
Like any good piece of art should be, Another One is very appealing on a shallow and aesthetic level but also very complex and meaningful at the core, making this album DeMarco's best yet. It's a sign of very good things to come from the 25-year old well on his way to becoming one of the most prominent musicians of the decade.
Rating: solid 9/10
Essential Tracks: "No Other Heart", "Just to Put Me Down", "A Heart Like Hers", "Another One"