Netflix original animated series Arcane premieres in 'explosive' debut
American video game designer and publisher Riot Games initially had its breakout success due to their game League of Legends—their only game for 10 years. Nowadays, it would seem that the company has earned the "s" in Riot Games with a myriad of hit releases like Valorant, Legends of Runeterra, and Teamfight Tactics, alongside other experiences yet to be published to the gaming world.
Perhaps most shocking, however, was Riot Games' announcement on May 3, 2021 that they would be producing a Netflix original series with Fortiche Productions. Their animated show Arcane was promised to air in fall of the same year, focusing on characters from League of Legends. 
The series is set in the utopian city of Piltover that overshadows the oppressed underground city of Zaun, and follows the origins of two iconic League characters, Vi and Jinx. A truly tragic series of magical events, underground crime, and political infighting will tear the two sisters apart, and set the stage for a massive technological and social revolution in their world. 
Arcane's premise was to expand on some lore that had already existed in the videogame itself, bringing new life to the game's narrative by providing some much-needed backstory to its characters, complete with gorgeous animation and well-written, heart wrenching storytelling. 
Though Riot Games was not the first company to expand their brand from gaming to TV, it would be the first time such a widely beloved game of 115 million monthly players would be adapted to a Netflix original. As a result, high expectations were set for the company to really put out their best work, and if the ratings say anything, Arcane definitely succeeded.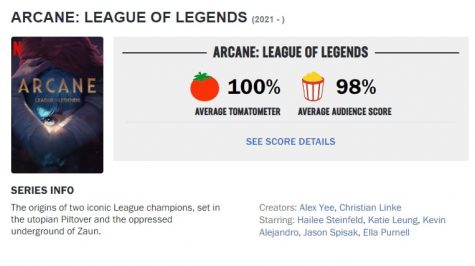 The nine-episode show would be gradually released in a weekly, three-episode drop beginning on November 6, 2021. Within days of its drop, Arcane had begun creeping into Netflix's top 10 list, with an impossibly positive viewer response. With a whopping 100% rating on Rotten Tomatoes and a 9.4/10 rating on IMDb, Arcane is the highest rated Netflix original series—ever.
Part of the show's success is due to the wide audience that it appeals to. Although definitely targeted at League of Legends players, viewers don't need to have played the game to understand what is going on. The exposition is done very well so as to not leave anyone confused and allows almost anyone to enjoy the show separately from the media it's based on.
Everyone from curious high-schoolers to veteran, middle-aged League fans was left absolutely speechless by the first three episodes, simply by means of the dynamic art style and story. For a long time, fans of the game have craved something just like Arcane, but in delivering this new, explosive experience, Riot Games and Fortiche Productions have reached out from beyond their gaming audience to the entire world.