'To All the Boys: Always and Forever' writes the final chapter to their story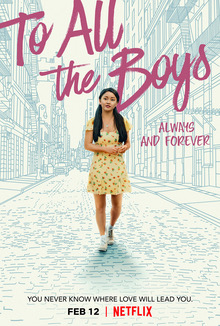 Following the first two movies, Netflix recently released the third and final movie, To All the Boys: Always and Forever, of the film series. Fans of the saga have been waiting for it to come out ever since the cast announced that they were filming the third movie, along with the second. Fans were delighted when Netflix finally shared the release date as well as the trailer of To All the Boys: Always and Forever, and this final installment of the three-part series definitely does not disappoint.
In the first film, Lara Jean Song Covey (Lana Condor) writes love letters to each person that she has ever deeply had a crush on. Unknowingly to Lara, her little sister mails all these love letters. Lara Jean then finds herself fake-dating Peter Kavinsky (Noah Centineo), who was one of the recipients, to benefit the both of them. By the end of the film, they have caught real feelings for each other and have actually started dating.
With the second film, Peter and Lara Jean's relationship gets complicated. John Ambrose McClaren (Jordan Fisher), who was also one of the recipients of her love letters, sends her a letter back and comes back into her life. Lara gets confused about her feelings and she wonders if she actually wants to continue her relationship with Peter or begin a new one with John Ambrose.
To All the Boys: Always and Forever continues with Lara Jean and Peter as seniors, trying to figure out which college they would go to. They had a plan to go to Stanford University, but all that changes when Lara Jean doesn't get accepted and falls in love with New York. This leads her to wanting to go to New York University, which is 3,000 miles away from Stanford — and Peter. The two try to make the time they have left memorable, even with the hardships.
Although some of the scenes are awkward and embarrassing, most of them are enjoyable and cute. The wedding and reception of Lara Jean's dad and their neighbor is by far the most enjoyable to watch. In some of the scenes, Peter acts in a certain way and makes faces which are a bit uncomfortable to watch.
Lara Jean's ex-best friend, Genevieve Mitchell (Emilija Baranac), definitely improves the most from the first and second movie. Instead of being mean and cold, she becomes friendly. This character development is appealing and causes older and newer audiences to like her. While Genevieve improved, Peter is not very likeable in some of the scenes. He is a bit toxic and manipulative to Lara Jean, but he makes up for that by the end.
The film's soundtracks are all upbeat and fitting. At the beginning, there were some Korean Pop songs that played, which was cool because they were in Korea. "I Like Me Better" by Lauv recurred in all three of the movies, which is fascinating. This film ends with that song which is pretty nostalgic.
For all the fans of romantic comedies, To All the Boys: Always and Forever is definitely a perfect match for you.