New, live-action 'Mulan' gives twist to an old story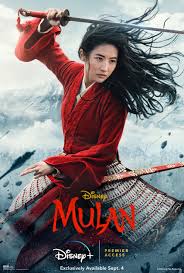 The long-awaited live-action adaptation of Mulan is finally here. Many have been eager to watch the new film ever since it was revealed to be in the making. 
Mulan has its ups and downs. Although the live-action is more realistic, the animated film is more interesting and fun to watch. 
In the live-action, Mulan, played by Liu Yifei, joins the Chinese military, with fear that her ill father will be the one being drafted. Since she is a woman, she is unqualified to serve in the military. She then proceeds to disguise herself as a man and successfully joins the military.  
Mulan tells the story of being loyal, brave and true. These are the traits that she follows throughout the film. The production of the movie is definitely one of the best and most expensive — $200 million being the budget. It's the most expensive film ever by a female director. As far as the storyline goes, the live-action does a pretty good job of following the original one. 
Although some characters are left out, which is disappointing, the new movie includes new characters. Mushu, Mulan's close companion, and Li Shang, Mulan's love interest are not shown in the live-action. While Chinese people found Mushu to be offensive in the animation, Mushu added some humor to the movie. Li Shang was not revealed, but Chen Honghui (Yoson An) had replaced him as Mulan's love interest.   
The 1998 film had a total of 13 songs. Mulan sang "Reflection" in the original. It was a top hit and was definitely favored by many. Expecting the songs in the original movie to be featured and performed in the live-action (especially "Reflection"), it is shocking that only the instrumental versions were played — and that Mulan didn't burst out singing the top hit. 
Matthew Wilder, co-writer of the songs for the original film, did admit that "Reflection" plays a huge part in the movie, therefore including it in the new film. The instrumental version fits the live-action version quite well. Niki Caro, the director, explained that she felt like the original songs didn't fit with her realistic vision of the film. 
Originally, the film was going to be released on the big screens on March 27. With COVID-19, the huge release was cancelled. Instead, Disney decided to premiere Mulan on Disney Plus for a premium fee of $30 on Sept. 4 — the original animated film being released in 1998.  It will be available for anyone who is subscribed to Disney Plus on Dec. 4.
For fans of live-action remakes, Mulan is definitely a movie to watch.