Pixar's 'Onward' is an unlikely source of magic amid dark times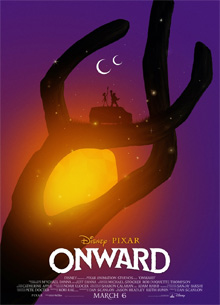 Anytime Pixar Animation Studios releases a movie, fans are eager to line up at the box office and be among the first to witness a new generation of storytelling. However, due to the COVID-19 outbreak, Onward experienced a unique release.
Disney-Pixar's Onward was released theatrically March 6. Due to the increasingly dire COVID-19 pandemic, the executive decision by Disney was made to release the film digitally just two weeks after its theatrical release. Disney+ added the movie to its library April 3.
Despite all of the challenges the film faced in being released, Onward is a fantastic animated film with much to offer. The story follows 16-year old Ian Lightfoot on his journey with his brother, Barley, to try and revive his father through magic, a tradition that has been long lost in the fantasy in which they live.
Compared to other Pixar films, such as Toy Story and Cars, Onward may seem like a bold outlier in terms of disposition. However, the new film fits in just right with Pixar's library of emotional stories and quality films. Onward has a magnificent sense of creativity as demonstrated by the unique story and setting. The traditional fantasy setting is not something fans may be used to seeing Pixar execute, but the studio went above and beyond in doing so.
The plot of the film can be a bit predictable at times, but nonetheless is very emotional and heartwarming. The brotherly bond developed between Ian and Barley throughout the film is a highlight and the emphasis on the importance of family is very touching.
In addition to a wonderful story and setting, the cast is star-studded. Renowned actors Tom Holland and Chris Pratt provide the voices for Ian and Barley Lightfoot, respectively. Both actors take on the characters they portray in a way that is organic and natural.
The animation is sophisticated and the great amount of progress Pixar has made since its previous film, Toy Story 4, is notable. The details in each scene are intricate, from surfaces such as wood to elements like fire. From the architectural details in the Manticore's Tavern to the detailing on Barley's van, every part of the film is meticulously crafted. Also, homages to previous films stand out and serve as a nice treat.
Onward is a memorable, creative film with a great story and wonderful animation, which is sure to become a classic, despite the hard times the world is currently facing.