Stephen King's 'Pet Sematary' leaves fans on the edge of their seats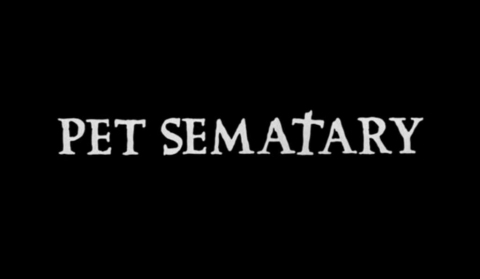 For the fans of the many Stephen King books, the infamous Pet Sematary has been adapted into a new movie. Following the 1983 Stephen King novel Pet Sematary, and its original 1989 movie by Mary Lambert, comes the new 2019 Pet Sematary movie. Directors Kevin Kolsch and Dennis Widmyer have created a new and truly horrific movie to bring to life the old classic.
Many characters in the movie remain exactly the same as the book. There are only some minor additions to the cast to make the new movie more exciting and a little different from the others. Though the new movie is mostly known for by the book, the minor changes do not seem to drastically change anything.
The film is brought to life mainly by its cast of Jason Clarke (Louis Creed), Amy Seimetz (Rachel Creed), John Lithgow (Jud Crandall), Jeté Laurence (Ellie Creed) and Hugo Lavoie (Gage Creed).
The movie begins with Dr. Louis Creed and his family of four, and shows how they move from Boston to a small town in Maine. They move into a beautiful home with amazing scenery and lots of land, but their new life is not as simple as it seems. Behind their new home is a truly haunting graveyard which the locals called the "Pet Sematary" for their deceased animals. Becoming suspicious, the family moves into the home, not knowing what is yet to come.
After moving in and trying to fit into their new neighborhood, more suspicious activities begin to occur, even in strange places such as Dr. Creed's new job. The suspicious activities even occur to their young daughter, Ellie Creed, when her cat, Church, is killed which later causes a devastating moment for the entire family. Which somehow always leads them back to their infamous backyard "Pet Sematary."
Directors Kolsch and Widmyer use the "Pet Sematary" as an important setting that the whole movie is based upon. Everything that occurs to the family has to lead back to the same place, their backyard graveyard. This is where most of the major plot occurs and is what causes it to be such a horrific movie. The acting helps develop the story and the emotions. Even though Jeté Laurence has become an actor at such a young age, she does an amazing job as a main character and in many of the scenes. In moments when she has to beg for her life, Laurence helps the scene look more dramatic with her raw emotions. The special effects and soundtrack provide a tantalizing effect that leaves the audience in shock. Especially during the jump scares, the extra BANG in the background makes the scene even more scary.
Pet Sematary is a true horror film and a perfect opportunity to watch from behind your hands. This unimaginably scary movie is filled with many jump scares and compares very well to the original book.