'Fantastic Beasts' sequel stupefies fans in a magical way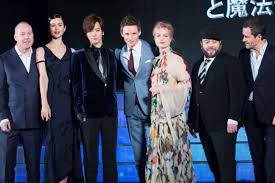 Harry Potter and J.K Rowling fans are once again going crazy over the second adaptation of the movie Fantastic Beasts and Where to Find Them after it was released Nov. 16. Directed by the same mastermind behind the first film, David Yates, the sequel, Fantastic Beasts: the Crimes of Grindelwald, is a thrilling film filled with action, and certainly does not lack the same adorable and equally terrifying magical creatures that help the characters achieve their missions by the end of the film.
Fantastic Beasts: the Crimes of Grindelwald is in fact set as the second preface to the iconic Harry Potter series by J.K. Rowling as well, to give fans an additional taste as to what magic is really like. The movie alternates between late 1920s London, Paris, and New York and follows the much-loved main character known as Newt Scamander (Eddie Redmayne).
In the first Fantastic Beasts movie, we follow the British Newt's adventures in New York City, where he meets Tina and Queenie Goldstein (sisters) and Jacob Kowalski (a "no-maj", or non-magical person). All of these characters make significant appearances in the second film, while tension is increased in their relationships.
In Fantastic Beasts: the Crimes of Grindelwald, we face yet another epic adventure as Newt goes to Paris, France with Jacob in hopes of finding Tina once again. However, Young and fledging Albus Dumbledore sends Newt on a side mission as to defeat the antagonist of the film, Gellert Grindelwald (Johnny Depp), with evil intentions of dominating both the magic and non-magic world.
Packed with magical adventures galore, Fantastic Beasts: the Crimes of Grindelwald leaves the audience craving more, despite the long run time of two hours and thirteen minutes. The enticing action sprinkled with light-hearted humor contrasts with deaths that were mourned and intense drama between lovers, friends, and family. Suspense is successfully built through exhilarating action and fantastically vivid visuals. This film is no doubt the one for fans of fantasy and people in search of an interesting story.