'Darkest Hour' shows the thoughts of a prime minister during an Axis of darkness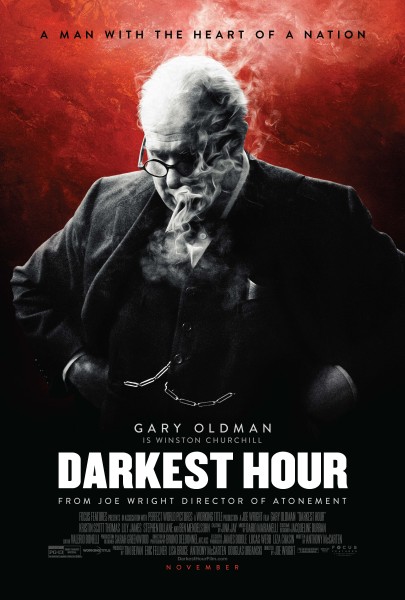 Although Joe Wright's many accomplishments come from the filming of Pride and Prejudice, Pan and Atonement, his first history movie, Darkest Hour, is what historians are dreaming for. The movie is set in England and in a small part in France as well. The main character is none other than Winston Leonard Spencer-Churchill, the prime minister of England during the time of the German Reich's unstoppable campaign through central Europe. Faced by overwhelming odds with no help from the Soviets or the West, Churchill must find the determination to either secure peace with the fascists and blackshirts, or to wage war until help arrives. Actor Gary Oldman gives the audience a spectacular performance where he combines Winston's grit and tolerance and his impeccable and brash personality.
As Hitler's Heer controlling land, his Kriegsmarine controlling sea, and Luftwaffe controlling the air, hope seems lost for the Allies. By the time Chamberlain resigns as prime minister, Belgium, the Netherlands and Luxembourg have already capitulated. France is soon to follow.

As it is seemed to be an immense task, the British Parliament decides to elect a new prime minister. Thoughts immediately fall on Viscount Halifax, but he declines. Parliament is forced to elect Churchill, showing that he is not their first choice, and how he is referred to as a "bully." Adamant to take a stand and fight, he first refuses to have any peace talks with the Italians, Germans and Slovakians. French and British troops are forced into the coastal city of Dunkirk. Seen as a last stand for the Allies, Viscount and Neville proceed to bombard Churchill with talks of peace with Benito Mussolini.Churchill, however, issues Operation Dynamo to save the British Expeditionary Force. Stubborn till the end, Churchill delivers the "never surrender" speech and convinces the British Parliament to fight. Britain succeeds in delaying the invasion of Britain (codenamed Operation Sea Lion by the German Reich) until the Soviets and the United States joined in. Turns out it takes a bully to fight a bully.
The addition of Lily James as Elizabeth Layton and Kristin Scott Thomas as Clementine Churchill shows the participation of women in war. They both portray how women were supposed to overcome gender inequality. Although the movie runs a bit too long, it is still okay due to the fact that Wright puts in an amazing cast that keeps the audience glued to the screen as well as having places such as Westminster Abbey and the underground tunnels of Britain.

The movie does an excellent job in portraying Churchill's darkest hour. I'd give it a 10 out of 10.