'Kyanq u Kriv' captures Karabagh War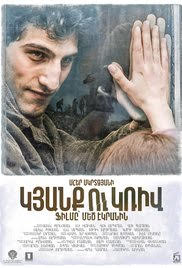 With recent conflicts in Nagorno-Karabagh revived, Mger Mkrtchyan's Kyanq u Kriv is more relevant than ever. The name directly translates to "life and fight." This film captures the haunting story of the brutal ethnic conflict that took place in Karabagh from 1988 to 1994. Although those who do not speak Armenian may not understand the film, the visuals themselves say everything. This film entwines romance, drama and war into a two-hour cinematic experience.
The movie begins with a young, fair-skinned Armenian girl named Anna who sits on a trolley to go home. She is welcomed by her overprotective brother, Armen, and his group of friends who are smitten with her. One of Armen's friends, Tigran, becomes the main protagonist of the film as he struggles to please his grandfather, help his mute sister and win Anna's heart.
The film is set during the Nagorno-Karabagh War, a conflict filled with tears, blood, death and extreme grieving both for Armenia and Azerbaijan. Tigran is a polyglot who knows how to speak ASL and Turkish. He is shunned for refusing to move out of his native country for better opportunities by his grandpa. Seeking a way to redeem himself, he decides to take part in the war.
Tigran loses many friends throughout the movie, and scenes of murdered soldiers are especially powerful. There is one scene where Anna's father, a reputable tank strategizer, had hung himself. An Azerbaijani soldier had cut an ear off of him, a barbaric practice that was common to inflict upon an enemy. There are moments of pure terror and suspense as spies are revealed, and women and children are trapped in a hut with TNT attached to them. Tigran and his friends continue fighting for their native land as the story develops.
The film contains beautiful scenes of the Ararat Mountains and the snowy fields and nature of Armenia. The scenery combined with the traditional Armenian music is very emotional. However, the romantic aspects of the movie are quite predictable and not as interesting. There are also some unnecessary characters who play no major role in the movie whatsoever. Also, the filmmakers could have incorporated more real footage of the war as Mkrtchyan included towards the end of the film.
Still, the movie captures the horrific reality of the Karabagh War in Armenia, a matter more relevant than ever as war has rekindled in that area. It is a movie worth seeing, especially for younger generations of Armenians looking to know more about their history.