'Fuller House': Meant for a house only full of teens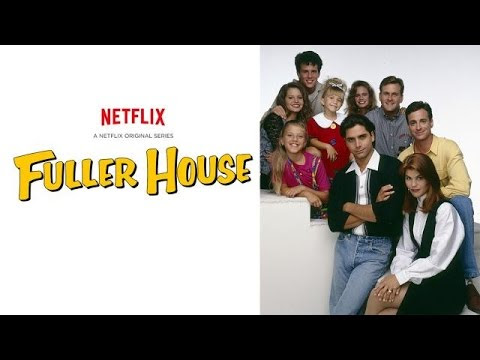 Jeff Franklin has desired to create a spinoff series for quite some time now. The big question is: Is this new show as good as Full House used to be? Or will it merely lead to disappointment as it simply falls under the shadow of what could've been a continuation of the cutest family sitcom of all time?
After having gone their own separate ways, the old members of the Tanner household come together in a final reunion before the family house is sold. Joey Gladstone (David Alan) returns to San Francisco from Las Vegas where he performs his comedy act at The Venetian and Stephanie Tanner (Jodie Sweetin) comes back from her party life in England. Danny Tanner (Bob Saget) and Rebecca Katsopolis (Lori Loughlin) have a talk show waiting for them in Los Angeles and Jesse Katsopolis (John Stamos) a music career. Michelle Tanner (Mary-Kate and Ashley Olsen), however, is "busy in New York running her fashion empire."
The cast actually acknowledges how Mary-Kate and Ashley Olsen did not sign on for this new series, having most all of the adult cast of Full House stare at the camera. On top of that, every time any member of the old cast — apart from D.J. Tanner (Candace Cameron-Bure), Stephanie Tanner (Jodie Sweetin), and Kimmy Gibbler (Andrea Barber) — enter a scene, their entrance cued a dramatic applause that seemed way too over-the-top.
The makers of Fuller House thankfully decided to keep the same theme song. However, it's gotten to the point where viewers could answer the question presented in the lyrics, "Whatever happened to predictability," by saying nothing, nothing at all — because the series is completely predictable! Just like Danny Tanner (Bob Saget) had to raise three young daughters after his spouse died with the help of his brother-in-law (John Stamos) and his best friend (David Alan), D.J. Tanner (Candace Cameron-Bure) has to raise her three sons after her spouse dies with the help of her sister (Jodie Sweetin) and her best friend (Andrea Barber).
It's also quite predictable that the show would emphasize the catchphrase of each of the old characters. "How rude!," "Oh my lanta!," "You got it dude!," and "Have mercy!" are repeated more times in this one season than an entire year of Full House. This gives the impression that the show is relying too much on nostalgia as a means of striving to be as successful as the prior series. It allows viewers to live in the past.
The problem is, the people who watched the show 25 years ago have all grown up and while it is nice to watch a familiar show, for the most part they would be disinterested in the series that spins off the series they loved as kids simply because they are no longer kids.
Most other reviewers of Fuller House are included in these people, which explains why they would have so many negative comments for the show. Though it has lost this adult appeal, the show is not exactly for the child age group either. While Full House considerably focused on the lives of the children, Fuller House focuses more on the storylines of D.J. Tanner (Candace Cameron-Bure), Stephanie Tanner (Jodie Sweetin), and Kimmy Gibbler (Andrea Barber). In turn, many elements of every episode includes content inappropriate for the G rating Netflix welcomes. As a result of concentrating more on the lives of the women of the show and having much more mature content, teenagers would be the best age group to enjoy watching the series.