'Batman v. Superman: Dawn of Justice' has far too much going on
It's finally here. The pairing of the two most iconic comic book powerhouses has happened and the result is Batman v. Superman: Dawn of Justice, a messy, overstuffed effort by Warner Bros. to kickstart their DC Cinematic Universe, filled with both impressive moments and disastrous ones.
Soaring into theaters on March 25, the film's plot is one that cannot be easily explained without getting into specific details, but the basic storyline is rooted in one question: Does the world need Superman? Following the shocking destruction of Metropolis in Man of Steel, Senator Finch (Holly Hunter) is trying Superman (Henry Cavill) for his actions that were ultimately responsible for the horrible catastrophe. Meanwhile, Bruce Wayne/Batman (Ben Affleck) is attempting to eliminate the threat Superman poses to Gotham and the world as a whole. His plan involves stealing a chunk of Kryptonite from Lex Luthor (Jesse Eisenberg), who wants to defeat Superman for his own reasons. There's also a whole other series of contrived events happening which includes the introduction to Diana Prince/Wonder Woman (Gal Gadot), Doomsday and just far too much to mention.
Starting out with the positives, Affleck legitimately holds his own amongst the various actors that have portrayed the caped crusader and gives the character a very different approach. This Batman is damaged and grizzled, one who is in no way afraid to kill others as opposed to other incarnations. Though some fans are bound to be disappointed by his lack of moral compass, Affleck's take on Batman, and Bruce Wayne (they may be the same person but they're not the same character), is still extremely well-done and fresh.
Cavill is also great once again as Superman, as is Amy Adams as Lois Lane. The new additions to the franchise also bode well, especially Jeremy Irons' Alfred. Much like Affleck, Irons' approach to Batman's loyal butler is quite exciting and not something that has been seen before. This Alfred is much more tactical and rough, giving off the vibe of an ex-mercenary of sorts.
However, the one new addition who never really meshes well with the film is Jesse Eisenberg as the maniacal Lex Luthor. The performance is fine, but as a character, he just doesn't fit into this film. It's never quite apparent whether he's supposed to serve as a kind of comic relief or if he's supposed to be a chilling threat. He does have some deceptively creepy moments, especially towards the end, but overall, his character never quite felt germane to the plot.
Now, this being a Zack Snyder film, there's gonna be those who either love his visual extravaganza or who become sick of it quite quickly. The action is heavy on the special effects, with a few exceptions involving some hand-to-hand combat between Batman and some goons; arguably the best action sequence in the film. The effects at times do become a bit overbearing, particularly during the finale with Doomsday, but for the most part they remain effective.
The biggest flaw here is definitely the script which is just way too packed with forced setup to future Justice League characters, a hodgepodge of unnecessary side plots and some pretty weak dialogue. Screenwriters Chris Terrio (Argo) and David S. Goyer (The Dark Knight Trilogy, Man of Steel) just had too much material to work with and couldn't dial down all the content into the film despite its lengthy two and a half hour runtime.
It's perfectly fine to come out of a movie that was just fine every now and then; not every movie can be amazing after all. But  to come out of a movie that was just fine that has the words Batman AND Superman in the title, well it's just a little disappointing.
About the Contributor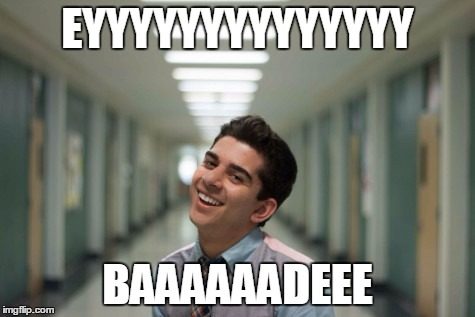 Alec Badalian, Magazine Editor
INTERESTS/HOBBIES:  Inter-dimensional travel.
EXTRACURRICULAR ACTIVITIES:  Stopping Dr. Doom.
THREE WORDS TO DESCRIBE ME ARE:  This isn't science.
IN...