'Eddie the Eagle' lands in feel-good territory
Who doesn't love a good sports movie? From the Rocky franchise to Field of Dreams, these pictures, while formulaic, tend to hit all the right notes and inspire us all to and follow our dreams no matter how impossible they seem nor how obscure the featured sport is, even ski jumping. Most fortunately, this is the case with 20th Century Fox's British-produced biopic Eddie the Eagle.
Soaring into the theaters on Feb. 26, Kingsman: The Secret Service mastermind Matthew Vaughn produces this inspirational tale of courage with director Dexter Fletcher behind the camera. Taron Egerton, another member of the Kingsman team, stars as the titular Eddie Edwards, who, since his childhood, dreamed of being an Olympian, despite his significant lack of athleticism. From breaking windows with a javelin to faceplanting onto the pavement over hurdles, Eddie searches for his calling among each of the Olympic sports and settles upon ski jumping.
Abandoning his dad's plastering company to pursue his dreams, Eddie travels to Germany to master ski jumping in Europe's most renowned training camp. After having pummeled his face into the snow a countless amount of times, he comes across Bronson Peary (Hugh Jackman), a middle-aged drunk who was once an Olympic ski jumper for the American team. After convincing him to be his trainer, Peary promises to take Eddie all the way to the Winter Olympics and achieve the goal he's always desired.
Egerton further establishes himself as one of Hollywood's greatest rising stars with his tremendously uplifting performance, effortlessly getting the audience to root for him through his struggle. His exuberant energy is matched perfectly with Jackman's sternness, as they work of each other in such a natural manner. Christopher Walken also pops up quickly towards the end for a wonderfully moving scene that brilliantly closes the film.
The ski jumping sequences possess great importance in terms of the stakes at hand and as a means of developing Eddie's character, boding well for the overall emotional payoff. There are a few distracting instances of CGI stuntwork that take away from the other moments of actual stunts, but not to a particularly overbearing level. There's also a magnificent soundtrack layered throughout the film, featuring some upbeat '80s techno that channels a great Rocky VI kind of tone, which suits the film tremendously.
Although the film rarely tries anything all that new or inventive, it executes almost every aspect of itself in such magnificent fashion that it's difficult to criticize its unoriginality. The performances are all delightful in their respective ways, the story is effortlessly inspirational and the aesthetics are top-notch. Those seeking just a unashamedly sentimental film that knows how to put a smile on a face will more than likely be satisfied by this heartwarming journey.
About the Contributor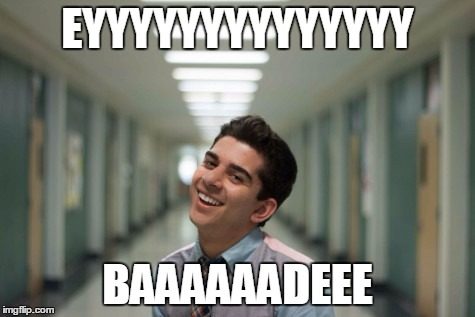 Alec Badalian, Magazine Editor
INTERESTS/HOBBIES:  Inter-dimensional travel.
EXTRACURRICULAR ACTIVITIES:  Stopping Dr. Doom.
THREE WORDS TO DESCRIBE ME ARE:  This isn't science.
IN...