New neighbors move in this May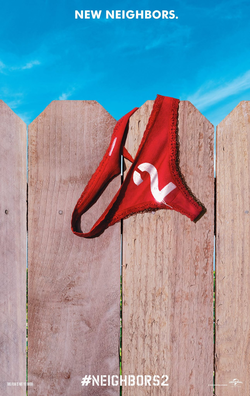 Director Nicholas Stoller brought us the successful comedy Neighbors in 2014 a film about Mac (Seth Rogen) and Kelly Radner (Rose Byrne) who are a new family being terrorized by the obnoxious fraternity next door. This summer, Rogen and Stoller reteam once again to bring us the next installment with Neighbors 2: Sorority Rising.
Neighbors was written by Andrew Jay Cohen and Brendan O'Brien, who both wrote the 2004 Judd Apatow comedy The 40-Year-Old Virgin. They are also the writers of Neighbors 2: Sorority Rising, but this time they will be joined by Nicholas Stoller, Seth Rogen and Evan Goldberg. Rogen and Goldberg have written numerous scripts together, most notably Superbad, Pineapple Express and The Interview. With this duo in the writing room, Neighbors 2 is sure to have some hilarious moments.
So far, the announced cast is impressive. The movie will star the actors from the first film, the main ones being Seth Rogen, Rose Byrne, Zac Efron and Dave Franco. Also joining the cast are Chloë Grace Moretz, Kiersey Clemons and Selena Gomez as the new sorority members.
As revealed in the trailer, the plot seems to be similar to Neighbors. It is about a sorority named Kappa Nu that moves in next door to Mac and Kelly while they are trying to sell their house. With the help of Teddy (Zac Efron) who was the head of the fraternity Delta Psi in the first film, they plan to take down Kappa Nu.
Despite the sequel having an almost identical narrative as the original, Neighbors 2: Sorority Rising looks to be as funny as its predecessor. The trailer reused similar jokes from the first film such as the airbag gag, but it didn't seem stale this time around. If Neighbors 2 implements the same type of immature and over-the-top jokes from Neighbors, it's safe to say that Rogen fans will enjoy it.
Fans of Rogen's and Goldberg's films are filled with excitement by the news of another Neighbors, and the movie is scheduled for release May 20.