'Krampus' successfully combines comedy and horror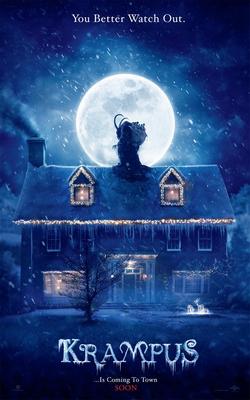 December is the time for families to gather together and enjoy each other's company. What better way than to watch a movie? Krampus is a worthy contender for a film to watch this year with the family, as long as everyone is prepared for a scare.
The film follows a wealthy family of five and their redneck relatives, which is reminiscent of Chevy Chase's National Lampoon's Christmas Vacation. After the movie's comedic introduction, it is clear that things will take a sinister twist. The two families don't seem to get along but are forced to help each other out when a mysterious snowstorm knocks the power out in the neighborhood a few days before Christmas. Then they are all subject to horrifying attacks by monsters, ranging from gingerbread men to snakelike jack-in-the-boxes to Krampus itself.
One issue that taints what would otherwise be a great film is the lack of explaining what Krampus even is. Krampus is an anthropomorphic goat creature that is the opposite of Santa Claus, because it punishes the kids who have been bad that year. The film assumes that everyone already knows that, which they definitely do not. Although there is a neat animated sequence that explains one character's past experience with Krampus, no one ever explains who the creature is or why it is targeting them. Still, in the excitement of the film, the lack of explanation can be partially forgiven.
Starring Adam Scott and David Koechner, Krampus is a combination of comedy and horror. Some of the jokes seem forced and come at inappropriate times, but the humor works out for the most part. As the movie progresses, the comedy shifts more toward horror, but it still makes sense and fits in with the creepy theme.
Krampus opened in theaters on Dec. 4 and already made $16 million, just in the opening weekend.