Unwrap the gift of holiday raunch with 'The Night Before'
When it comes to Christmas movies, don't be a Scrooge; rather, enjoy their true wonder and lack of subterfuge. R-rated comedies and Christmas seem to be incompatible things, but audiences will be surprised with what this experience brings. So go on this journey and see what's in store, with this epic Christmas journey in The Night Before.
With its sleigh bells ringing in theaters on Nov. 20, be sure to listen in about this holiday tale that stars Joseph Gordon-Levitt as Ethan, a jobless, lonely musician whose parents tragically passed away on Christmas Eve in his teenage years. Upon loss of his family, he finds a new one within his best friends Isaac (Seth Rogen) and Chris (Anthony Mackie), and with that begins their Christmas traditions of karaoke, partaking in specific herbal substances and a whole bunch of other activities.
But with Isaac's first baby on the way and Chris' rise to fame as a football player, Ethan has one Christmas left with his best friends before they move on with their lives while he seems to be stuck with his. Thus begins their night of reliving their favorite holiday pastimes and attending New York's greatest Christmas Eve party. The final product includes hilarious shenanigans, heartwarming acts of passion and an unforgettable night.
The cast here is superb and the banter between these three leads is truly amusing. Each of the characters is perfectly balanced, as the three play off one another brilliantly, each of them bringing a different quality to the table.
Rogen's drug-fueled antics are wildly entertaining and outlandish, but are rooted in his fear of becoming a father, which adds a whole level of depth. His insanity is leveled out by Gordon-Levitt's desire to become more mature and get out of this rut in his life by rekindling his love with his ex-girlfriend Dianna (Lizzy Caplan), whom he lost due to his fear of commitment. As for Mackie, aside from being extremely likable and charismatic, he too goes through a similar character arc as he realizes how his celebrity life has corrupted him, causing him to use steroids and yearn to be accepted by other star athletes. All of these elements bring a surprising amount of dramatic strength and show that these characters are anything but flat and makes their evolution throughout the film all the more potent and rewarding.
Another notable actor would be none other than the outstanding Michael Shannon who plays Mr. Green, perhaps the most integral role in the whole story, as well as the funniest. The character provides a clever twist on the conventions of a typical Christmas fable, and Shannon only elevates the material with his hysterical life lessons for the protagonists via marijuana and his thoughts on Leonardo DiCaprio's The Great Gatsby. There are also a few top-notch cameos, particularly one involving a man who's quite close to Rogen in real life, and seeing them interact in the scene they share is nothing short of perfection.
The film is funny and manages to stay true to the Christmas spirit while also being ingeniously unconventional with its approach. Sure, that is to be expected, but what isn't expected is just how big of a heart this movie has. Of course there's that trademark Seth Rogen-brand humor involving jokes about weed and certain body parts, which is always splendid, but this movie has so much more than just that.
It feels the complication of internal struggles, it feels the hardships of moving forward, it feels the tragedy of loss and so much more. This movie feels, which no one could've predicted.
There are laughs, tears and Christmas cheer, making this flick one of the best movies of the year. The film is quite similar to this very rhyme, in that it is a jolly good time.
About the Contributor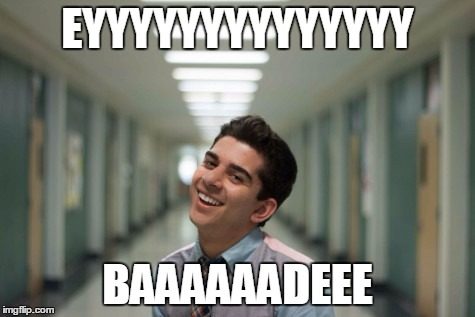 Alec Badalian, Magazine Editor
INTERESTS/HOBBIES:  Inter-dimensional travel.
EXTRACURRICULAR ACTIVITIES:  Stopping Dr. Doom.
THREE WORDS TO DESCRIBE ME ARE:  This isn't science.
IN...