Johnny Depp Shines in 'Black Mass'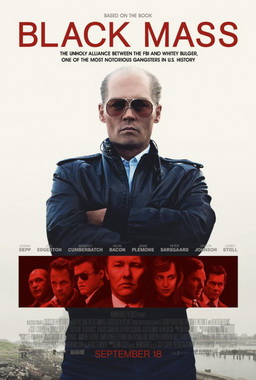 Once again, one of the most versatile actors in Hollywood is able to impress in a role which we've never seen him in before. In Black Mass, Johnny Depp stars as James "Whitey" Bulger, a mobster from the slums of 1970s South Boston who becomes an FBI informant in order to bring down the Mafia invading his territory. The film, also featuring top notch performances from Benedict Cumberbatch and Joel Edgerton, is based on the real life story of one of the most violent criminals in American history.
Depp's performance is terrifyingly captivating. His clever criminality and unpredictable viciousness is harrowing. His style in carrying out the acts of his character in such a realistic way is just flat out creepy. The way he so casually and cold-heartedly engages in such violent crimes really gets under your skin.
This chilling true story is written as something of a dark comedy. The portrayal of death and barbaric murder is so nonchalant, which makes this film such an important one to watch. It shows how you can take the basic human moral code and crush it to pieces, and make it a highly entertaining story out of it.
The cinematography adds to the film's dark, broken-down feel by capturing the ghettos and the projects of South Boston. The locations being shot in seem to symbolize the struggles that James Bulger faces in his life. The writing also creates a dark atmosphere by incorporating elements of repetition and strange contradictions which challenge the morals of the main characters, especially Edgerton's John Connolly. The beautifully crafted and expertly Bostonian dialogue in the film really develops the characters and their motives and provides a more humane outlook on the crimes they commit.
Although seemingly insignificant to an actor like Depp, who has a rather extensive filmography including defining movies such as Edward Scissorhands and the Pirates of the Caribbean series, Black Mass will go down as one of  the most important films of his career and is definitely his most Oscar-worthy performance.

Rating: 8/10