Maze Runner: Scorch Trials is even better than the first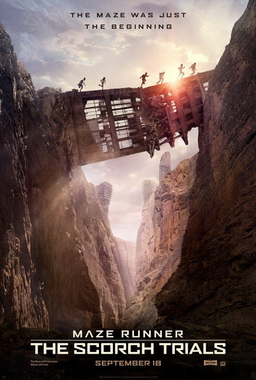 Wes Ball has done it again, making the second film of the Maze Runner series just as captivating as the first. Maze Runner: Scorch Trials was released Sept. 18, a day before the first film was released last year. The movie is just as thrilling as the trailers lead it to be.
After escaping the maze and being rescued by an unknown third party, the Gladers discover there was more than one maze and they weren't the only surviving kids freed from those mazes. Thomas (Dylan O'Brien) takes on the responsibility of leading his friends out of danger, just like he did in the first film. While attentive and daring, Thomas is rather unknowing of his predicament and of his past. Thomas and the other Gladers are determined to find the "right arm," a safe haven from the powerful organization, W.C.K.D., and the gruesome disease Flare.
Giancarlo Esposito, Aidan Gilen, Jacob Lofland, Barry Pepper, Rosa Salazar, Lili Taylor, and Alan Tudyk join the cast from the first film — Patricia Clarkson, Thomas Brodie-Sangster, Ki Hong Lee, Dylan O'Brien, and Kaya Scondelario— in this production. These characters are placed in a setting completely different from the first movie with completely destroyed cities including dismantled bridges, buildings, and cars. The computer-generated designs throughout the film are realistic and add to the overall effect of the movie.
The sound effects and soundtrack completely make the movie by adding to the level of suspense. The film also introduces Cranks, people infected by the Flare, who look and act more like walkers from the Walking Dead than they do people. This film incorporates more science fiction than the first film by including the Cranks.
The cast and crew took the same story present in the original film and continued it in a different world. Thomas and his group having been running away this entire time, but there's only so much running they take. The weekend Scorch Trials came out it was number one at the box office, with $30.3 million. If you've seen the first movie you can't miss out on watching this installment. The only question is which characters are you willing to trust?