Anatomy of a Single Girl gets a thumbs-up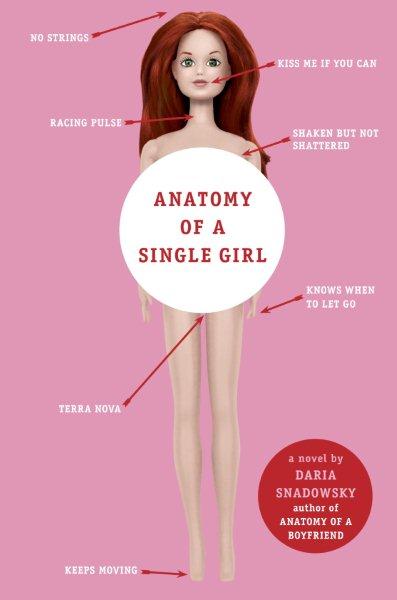 Daria Snadowsky is an author whose style can be described as having a "Judy Blume-like honesty and insight." That is, if Judy Blume wrote books about teenage girls trying to live life without their boyfriends.
Anatomy of a Single Girl is the follow-up to Snadowsky's Anatomy of a Boyfriend, which was received well for the most part. In Anatomy of a Single Girl, the main character, Dom is eighteen. The book circles around her dating trials and tribulations as a college student.
I didn't enjoy this book at first, perhaps because I was so used to reading heavy literature that I forgot how to read lightly and enjoy a simple, young-adult title. However, as the book progressed I found myself wanting to read more than the chapter a day I had allotted myself to. I truly felt as though I became Dom's friend as she went through college seeing cute boys everywhere.
Snadowsky does a fantastic job of creating this character who seems so real. I commend her for that, because if it was not for Dom's relatability I wouldn't have liked the book; her thoughts and ideas shape the book into a diary, almost.
Snadowsky's style of writing became so relatable to me; moreover, she's great at enforcing her personal views on life as well. Some of the remarks she makes, through Dom, remind me of things my older sister would say when she came home for the weekend from college.
There are important morals listed in the book that the reader learns as Dom tries to figure out her feelings. I really love how Snadowsky stresses the importance of family and friendship; some of us forget that relationships and falling in love aren't the only things in life. That is an awesome aspect of this book. It shows a maturity that is needed when balancing school and relationships.
What makes Anatomy of a Single Girl different from other young-adult titles is its refreshing honesty. I think we all need a dose of reality sometimes and this book really packs a punch of it. It's especially a book that shouldn't be judged by its cover; I say this because that's exactly what I did. I've never really been into the young-adult genre, but this book might've just opened my eyes to it and cleared the fog.
Anatomy of a Single Girl offers scenarios that could very well happen to any of us and that makes it a wonderful read. I recommend it to anyone looking for a book that has a perfect balance of advice, mischief and romance.