Boba Places to Visit in Glendale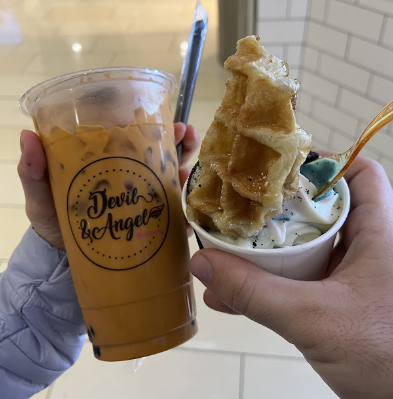 Recently, two new boba shops have opened at the Americana: Teaspoon and Angel & Devil Desserts. Some teens love to shop around the Americana and the Galleria while sipping on boba drinks, so this is a perfect addition to that lifestyle.
On December 10, 2021, Teaspoon held its grand opening at the Americana, located next to Chick-Fil-A. With a limited menu and a make-your-own drink option, teens have a choice to choose their own flavors. Their lines are usually long on the weekends and it takes around four to six minutes to order and get your drink.
Teaspoon's choice of hard paper straws makes it hard to poke into the top plastic covering the cup, making the drink taste like paper afterwards. After a few sips, their paper straws also deteriorate at the top. d. Although it is eco-friendly it is not worth the taste. However, they have an alternative option of metal straws, which one can buy separately. Along with the drinks, Teaspoon sells pastries like slices of cake or macarons for a few dollars more. A simple medium cup is  around $7 with tax. A bit pricey as the taste is not worth it, and the cup is filled with 70% ice.  
Angel & Devil Desserts is a boba, doughnut, and ice cream shop all in one. Selling both lemonade and boba, drinks come in a tall 24-ounce cup. There is a limited menu and each cup costs a little bit over $6. Their colorful mochi donuts, regular donuts, and ice cream costs around $4 and up, depending on the type of flavor. It costs about a dollar more if one wants to add a crunchy waffle topping.
Their boba shop is an open shop with colorful donut decorations on the outside. Customers have an option to order and pay with a credit card on the giant touchscreen tablet or pay with cash at the cashier. The lines are usually long if one orders an ice cream or drink, since it is self-dispensed by the workers.
The most popular ice cream and donut flavor is probably "cookie monster", inspired by the blue Cookie Monster from Sesame Street. It is a cookie and cream flavor with blue dye in it. Creamy and milky, the ice cream is worth the price of over $6 for a cup of ice cream that might not be finished. Other boba places to try that are in the city of Glendale include: It's Boba Time, Happy Cup, Yifang, and ShareTea. All boba shops have their pros and cons, but have fun and do not be afraid to try new drinks and find your own personal taste.