You must have the creativity to enter
The Upside Down House may not be for everybody
Imagine looking at a photo where you're walking on a roof. Is it even possible to walk on roofs? Well at the Upside Down House, at the Museum of Illusions, you can. Located on Hollywood Blvd, the Upside Down House exhibit piqued the interest of many due to its numerous, colorful and confusing photos published on the website. However, upon setting foot in the exhibit, you may regret buying tickets to enter.
Arriving at the museum, I was relieved that my cousin and I had even made it inside the museum, after a lot of twists and turns had to be made in order to find a convenient parking space. Expecting to find a large museum with explosions of color to welcome its guests, I instead found a small, solid-colored building with a marbled finish. In addition, it was also surprising that the wait time wasn't as long as expected.
Upon choosing an exhibit to walk in, I heard the shy voice of the front-desk employee saying that there were some exhibits that required a lot of creativity, such as the Upside Down House. My cousin and I naturally chose the Upside Down House, thinking that we can rise to the challenge. Setting foot in the exhibit gave a realization of what the employee said it was difficult to take creative photos of the exhibit.
However, the exhibit itself was well done, with excellent lighting and props. There are seven rooms, each with their own special setting and with furniture on the roof. Each room was vibrant and well-maintained.
It was very entertaining to figure out ways of posing and recreating some of the photos that were seen on the internet. While taking two hours figuring out how to take pictures, around four more groups quickly entered and exited. Some were having difficulty posing, and they kept looking at other groups for ideas but nobody was able to come up with anything.
Disappointment fell over peoples' faces as they exited the house and made their way out. To be successful in taking photos in The Upside Down House you have to go out of your way — beyond your comfort zone — to create photos that would confuse anybody who saw them. It was difficult, at first, to come up with ideas, but later on, the difficulty turned to curiosity which ultimately led to the excitement that was being advertised on social media platforms and online.
If you are considering ever visiting the Museum of Illusions; The Upside Down House, you have to take into consideration that the exhibit is not for everybody. It may be a complete waste of money or it may be worth your money. In my opinion, it was worth my money because of the bonding that takes place during the difficulty of taking photos.
Museum of Illusions
6751 Hollywood Blvd, Los Angeles, CA 90028
(800) 593-2902
10 a.m. – midnight; last entry at 11:30 p.m.
All-access: adults-$40, kids-$20, kids under five go in for free
Each exhibit is $25 for adults and $12 for kids
About the Writer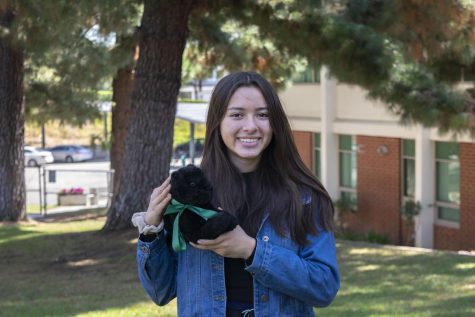 Jimena Vildoza, Staff Writer
Hobbies/Interests: soccer and photography

Spirit animal: fox

Places you want to travel to: Argentina, Italy, France

Favorite...