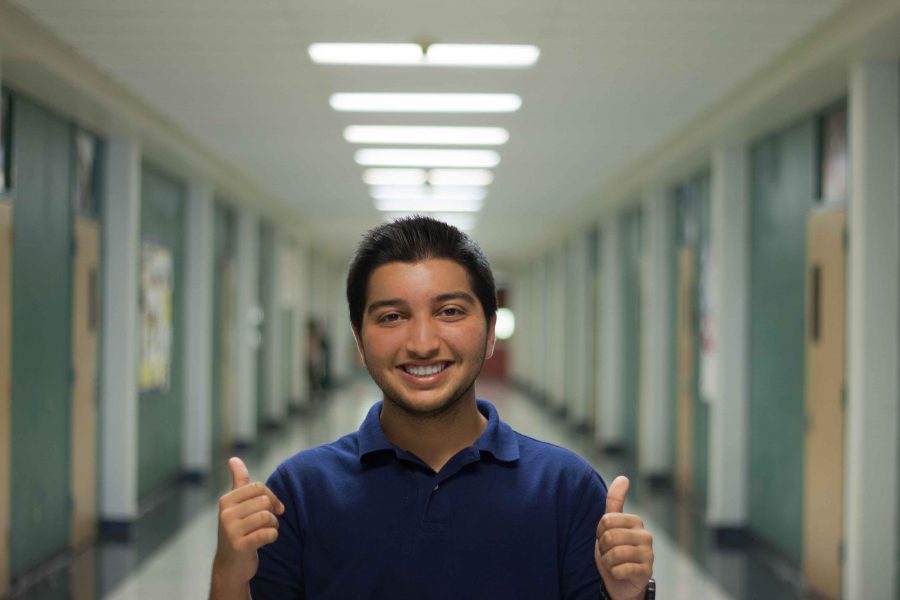 INTERESTS/HOBBIES: 
Running, swimming, watching movies.
EXTRACURRICULAR ACTIVITIES:  
Volunteering and working.
THREE WORDS TO DESCRIBE ME ARE:
 Awesome, funny, annoying.
IN TWENTY YEARS: 
living in a huge house as a successful lawyer in a successful law firm.
FAVORITE QUOTE:
 "What are your choices when someone puts a gun to your head? You take the gun, or you pull out a bigger one. Or, you call their bluff. Or, you do any one of a hundred and forty six other things." -Gabriel Macht as Harvey Specter in Suits.
FAVORITE MOVIE:
Now You See Me and Gone Girl.
Argeen Ghazarian, Website/video Editor, Business Manager
May 24, 2016

Glendale High School track and field closing banquet

(Story)

May 23, 2016

The week where electric cars went mainstream

(Story)

May 20, 2016
May 19, 2016

Armenian Genocide Commemoration

(Story)

Mar 18, 2016

Mrs. Hilmar-Braga makes a highly anticipated return to Clark

(Story/Media)

Mar 07, 2016

Netflix lures, hooks, and reels in binge-watchers

(Story)

Feb 29, 2016

'The Following' prematurely cancelled by FOX

(Story)

Jan 21, 2016

Bond. James Bond.

(Story)

Dec 17, 2015

Dive Devil brings death one step closer to reality

(Story)

Nov 30, 2015

Conan gives viewers an extraordinary experience in Armenia

(Story)

Nov 13, 2015

'Spectre' shakes when it should have stirred

(Story)

Nov 02, 2015

Ray Goren Performs at Clark Magnet High School

(Story)

Sep 23, 2015

Clark Magnet's digital sign stays broken for almost a year

(Story/Media)

Sep 23, 2015

Racing through obstacles of the mud runs

(Story)

Sep 23, 2015

'Suits' secures spot as No. 1 drama series for USA

(Story)

May 28, 2015

Armenian Genocide Silent Protest at Clark Magnet High School

(Story)

May 26, 2015

Republican-controlled Congress plus Democratic president don't mix well

(Story)

Apr 16, 2015

Vans Warped Tour celebrates 21 years with 42 concerts

(Story/Media)

Apr 15, 2015

White Collar wraps up all loose ties after five incredible years

(Story)

Apr 01, 2015

Students react to the upcoming centennial of the Armenian Genocide

(Media)

Mar 10, 2015

House of Cards season 3 stumbles but does not crash

(Story)

Mar 09, 2015

Cinematography students on Their First Live Production

(Story)

Feb 24, 2015

Commemorating the Armenian Genocide: 100 Years to 100 Days

(Story)

Feb 24, 2015

Mr. Stroup recruits high school students in the film industry

(Story/Media)

Feb 23, 2015

Adventuring through production

(Media)

Feb 12, 2015

Clark Magnet High School Winter Formal 2015

(Story)

Feb 05, 2015

Slater's 50/50 stands tall over all competition

(Story)

Jan 21, 2015

The Mentalist ends strong after seven superb seasons

(Story)

Dec 18, 2014

Clark Interactive Episode 6: Semester 1 Finals

(Story)

Dec 15, 2014

Clark Interactive Episode 5: 2015 Oscar Nominations

(Story)

Dec 15, 2014

Clark Magnet High School Pancake Breakfast 2014

(Story)

Dec 11, 2014

Clark Interactive Episode 4: Upcoming Movies

(Story)

Nov 16, 2014

Students benefit from later school start times

(Story)

Nov 11, 2014

'Before I Go to Sleep' wows as a suspenseful thriller

(Story)

Oct 31, 2014

Clark Interactive Episode 3: Halloween 2014

(Story)

Oct 21, 2014

Teacher-celebrity look alikes

(Story)

Oct 18, 2014

Clark Interactive Episode 2: IOS vs. Android

(Story)

Oct 12, 2014

Clark students take over Pacific Theaters

(Media)

Oct 07, 2014

Apple is victorious with new iPhone 6 and 6 Plus

(Story)

Sep 23, 2014

Back to School Night 2014 Time Lapse

(Story)

Sep 11, 2014

House of Cards continues to impress through season two

(Story)

Aug 24, 2014

Robin Williams' death stuns students

(Story)