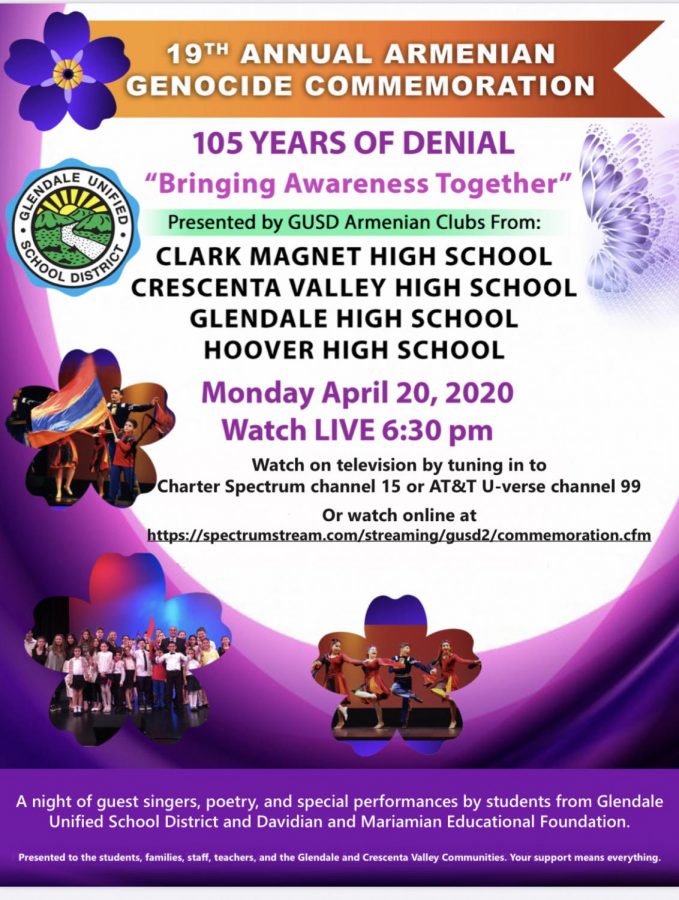 Ani Avakian
This year marks the 19th annual GUSD Armenian Genocide Commemoration. Due to the current COVID-19 outbreak, schools are closed and large gatherings are not allowed, so this year it was held live on the GUSD website. The only people who attended were Glendale Unified Board of Education members Greg Krikorian and Dr. Armine Gharapetian. They hosted the event along with Superintendent Dr. Vivian Ekchian. With the help of the cinematographers, the program was live and included videos students and staff had submitted.
The program began with an introduction from Dr. Ekchian and was followed by a message from Congressman Adam Schiff. He thanked GUSD for supporting students and holding the event. Schiff also thanked the Armenian Club members for sending in their videos and sharing their thoughts. He was disappointed he couldn't be there in person but he said that he continues to support the event regardless.
The members of the Armenian Clubs from Clark Magnet, Hoover, Glendale and Crescenta Valley High Schools coordinated the event by sending in videos from home. The presidents of the clubs sent recordings of themselves speaking about the importance of genocide recognition and what the Armenian genocide means to them. "Having the program be virtual sparked many creative ideas to connect the Armenian community and show the recognition for the lives lost in 1915," said Clark senior Aleen Soghomonian.
There were also guest appearances of students who were not Armenian. Students in Persian and Asian clubs also included messages about the Armenian genocide and the importance of the recognition.
The program included poetry, singing, dancing and even artwork. Students sent videos of them singing or playing an instrument, reciting a poem they wrote or explaining a piece of artwork they created. There were special guest appearances such as the famous Armenian singer Harout Pamboukjian. He wrote and performed a song dedicated to the Armenian genocide and all those who lost their lives. Group performances such as dances from past programs were also included since students couldn't get together to recreate them.
Along with the high school students, there were also GUSD elementary schools that sent in videos as well. One school had their kindergarten through fifth grades sing Armenia's national anthem.
"I attend the genocide commemoration every year with my family so I was very upset that I couldn't go this year," said senior Christina Khnkoyan. "I enjoy watching the performances and raising more awareness so it meant a lot to me that GUSD was about to make it happen this year."
As the program ended, hosts Dr. Krikorian and Dr. Gharapetian thanked everyone who participated in the live viewing of the commemoration. Dr. Ekchian also spoke about the importance of staying inside and practicing social distancing for COVID-19. Finally, all of the Armenian Club presidents created a special video with a montage of hundreds of students holding up signs reading, "1915 Never Again" and a big thank you to the administration for putting it all together.