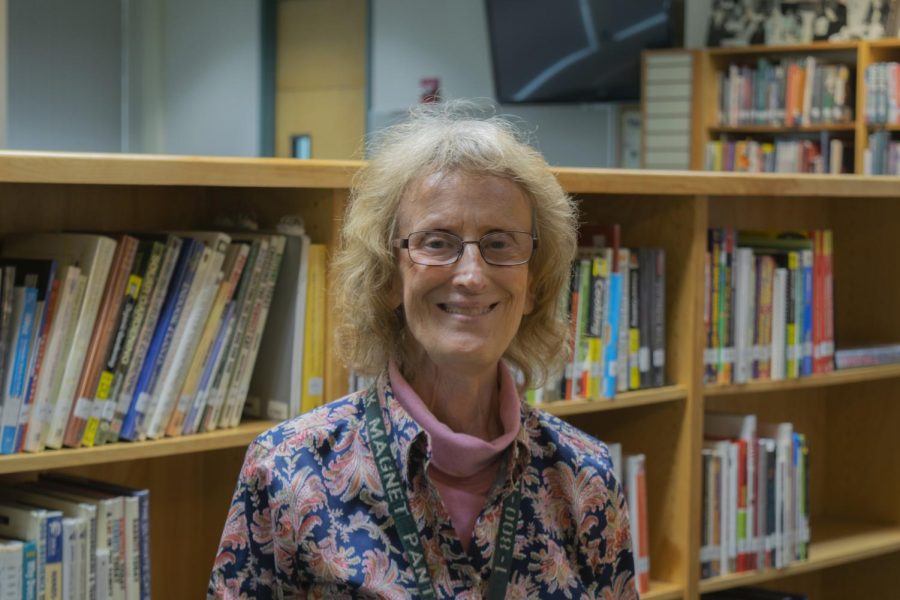 Ani Avakian
The iconic and influential librarian of Clark Magnet High School, Susan Newcomer, ends her legacy at Clark after 21 years. Newcomer has been heavily involved in making the school reputable, being the first (and only) advisor of the Scholastic Bowl Team and helping out with the senior projects. Newcomer also helped with the creation of the first yearbook in 1998.
Newcomer first started her studies at Los Angeles Valley College for two years. Newcomer continued her studies at UCLA where she finished her B.A. in histortical musicology and minored in history/social sciences. Newcomer worked for Lawry's Foods for 12 years. She also worked for seven years at O'Melveny and Myers, which was the biggest law firm in the Los Angeles area.
Newcomer found out about the creation of Clark through a newspaper article, she said. Newcomer applied to GUSD to initially become a substitute to extend her work experience since she had wanted to be a teacher ever since she was a child. Newcomer was later referred to founding Clark principal Douglas Dall, who was starting to create the staff for the school. Once Newcomer was hired, she earned a Teacher Librarian Services specialist credential.
Newcomer has always been involved with different English and history classes whether it be through the senior project or through her many presentations. Also, in previous years, Newcomer taught several seniors how to do research and how to apply their knowledge and skills to their writing projects. "Ms. Newcomer offered a lot of her time to help me with my Senior Project and I am very grateful for that," said senior Razmik Alemsharyan. "She will indeed be missed."
Those who have worked alongside Newcomer have appreciated her many contributions to the school community. "She has always been more than a librarian at Clark," said Humanities and Publications teacher Christopher Davis. "Ms. Newcomer has always been an important foundational person in the formation and sustaining of Clark and its culture," Davis said.
Newcomer plans to continue her love of music by starting to play jazz saxophone like she once did. "I also have a great interest in learning world languages, including Italian," Newcomer said.