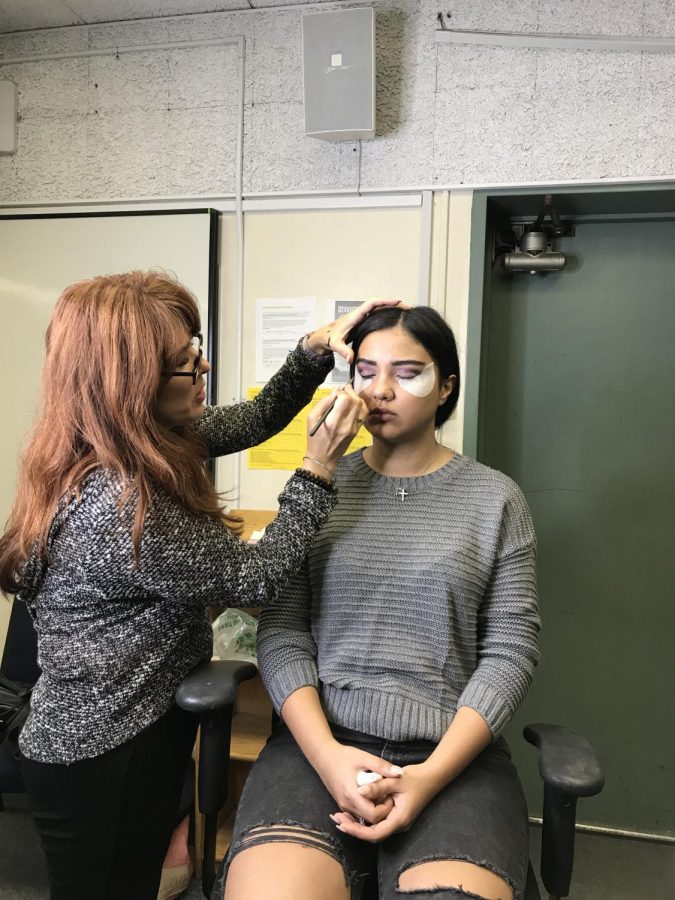 Tanya Yarian
The beauty world has transformed through the years from women using copper and minerals on their face to now spending hundreds of dollars on famous brands of makeup. Women spend over $200,000 on cosmetic products or operations in a lifetime. Technological advancements such as smart skincare tools and 3D makeup have transformed the beauty world.
I started using makeup in seventh grade and taught myself everything about how to apply makeup and what to buy. I thought that I knew everything about makeup until I took the opportunity to take a beauty certification class at Pasadena City College (PCC) taught by Michele Godinez and her assistant, Michelle Woodley. I woke up at 6 a.m. on two Sunday mornings and drove to PCC for this eight-hour class.
The first day I walked into the classroom, I was the only young student enrolled in this class; everyone else was already out of high school or was a mother. I had taken a college class before at Glendale Community College, but most of the people in my classes were students around my age. It was a different atmosphere to be in, but we were still able to connect over our love for beauty.
Godinez is the owner of the MIC Makeup Academy and started this class for others to achieve success in beauty application and learn the basics of makeup application. "I want to show others the techniques and secrets to achieving and living your dream career," Godinez said. She has had over 20 years of experience in the field of beauty and has worked with the Pussycat Dolls, Paris Hilton and Harrison Ford, among others. She started off in the hair business and soon went into the makeup industry.
Even though I had experience with makeup, there were many things that I never knew about. I learned about the proper sanitation procedures, brush types and color matching foundation. The first day we learned about each makeup product and how to apply it. Afterwards, I was chosen as the model as Godinez did a natural look on me, and then I repeated the look on another student who acted as my model. Other students did the same, and then we critiqued each other's work. Each pair had one hour to apply makeup to each other, and then we would walk around and look at others' work.
Godinez would have you come up and take pictures and she would say what she liked and what could use some work. It was the first time that I had ever done makeup on anyone else. It definitely took a lot of practice before I was able to properly wing my model's eyeliner.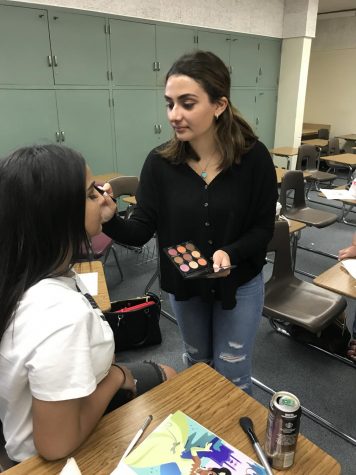 On the second and last day, Godinez did a lecture on eyeshadow placement and we went on to do a party look on ourselves. I brought in my own makeup and mirror and we spent the next hour transforming our faces. I own many eyeshadow palettes with different colors, and Godinez showed us how to mix and match the colors to make a makeup look for events such as birthdays or weddings. She brought up another student as a model and would use students' eyeshadow palette to create a new makeup look. The student would then get the opportunity to do that same look on themselves or someone that they chose as their model.
To end the class, we discussed the role of makeup in today's society. We discussed the lengths many women and men go to in order to make themselves look a certain way. Godinez explained how she believes that makeup is about enhancing the features that you already have, not drastically changing your look. She expressed how she likes a natural look, while her assistant stated that she likes the dramatic eyeshadow look.
Many young people with a passion for beauty and makeup enroll in similar classes at their local college or high school. Glendale High School, for example, has a cosmetology, business, and industry program that is open to all Glendale area high school students. Students can take makeup or hairstyle classes as an elective. This cosmetology program has been part of Glendale High School for over 35 years.
Students must complete 1600 hours of practice in the salon which go towards their work to get a cosmetology license and prepares them for the state board exam. Head instructor and professional hairstylist Chelbi Harris offers training to prepare for the state board exam. "A cosmetology license provides the opportunity for a variety of career paths," Harris said.
Makeup is not Harris's profession, but she teaches makeup techniques and also takes classes at her local MAC store. "It keeps me updated on current makeup tips," Harris said. She even partnered with MAC who provide demonstrations for the students and hand out gift bags at the sessions.
GHS offers a full service salon with hair and makeup services. The client gets their makeup or hair done by a student in the program training to become certified, while a licensed instructor supervises. Student Natalie Perez began her cosmetology path as an elective in her freshman year, but is now working to finish her hours and take the state exam to obtain her cosmetology license. "It's not a difficult journey," Perez said. "It's mainly hard-working, and if you really want it you gotta put your all into it.
Taking classes as a young beauty artist is essential to becoming a makeup artist. After finding a passion for makeup, it's crucial to enroll in a makeup artist program at a beauty school to become licensed.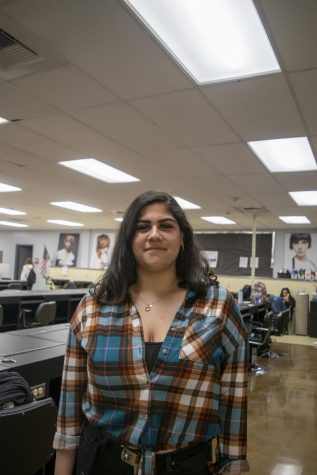 In order to work in a beauty salon, makeup artists must be licensed as cosmetologists or estheticians. At beauty school, students find their speciality, whether it's working for special effects makeup or becoming a makeup artist. After getting a license, it's all about experience in the field you want to go in. Godinez said that building your resume and networking is essential to receive a job as a high-paying makeup artist.
My class discussed the negative role that social media and trends play in our society. People have felt the pressure to look a certain way which is why one in three women don't leave the house without makeup. Clark senior Nadeen Atif, who also has a passion for makeup and has considered doing special effects makeup as a career path, has completed a class in stage makeup at Glendale Community College, believes that makeup is a way to increase a person's confidence. "I think that if makeup makes a person confident then they should wear as much as they'd like," Atif said.
Today, the ability to change your features has taken on a new role and there are different views on the purpose of makeup. "Makeup is an art form, and it's a personal choice if someone chooses to wear it, no matter what others believe," Atif said.