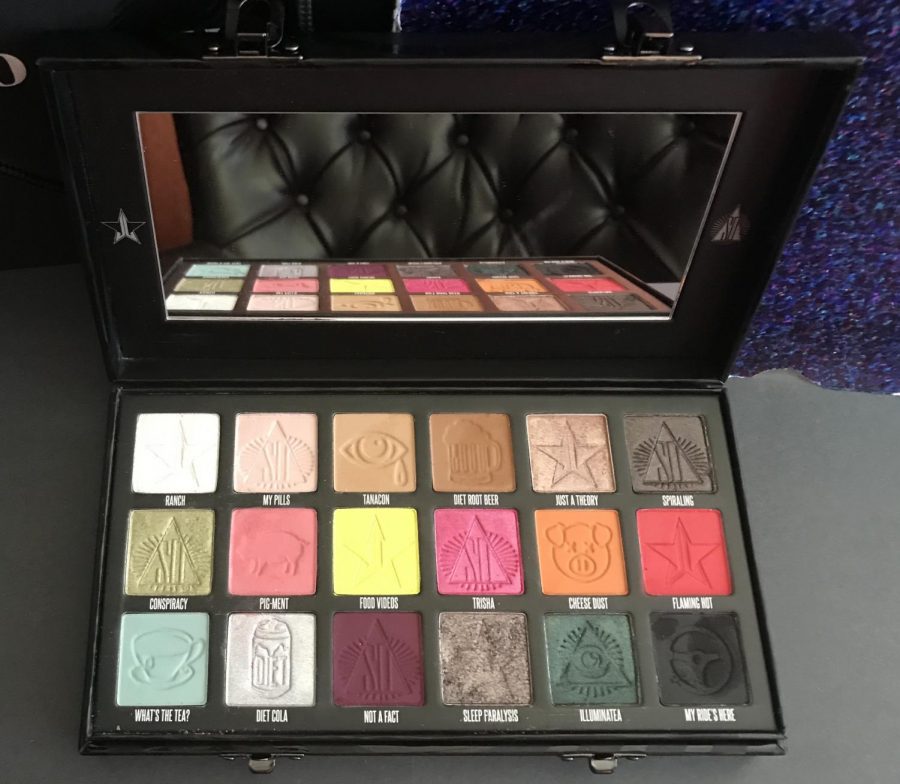 Katherine Shovlin
Every Shane Dawson fan knows about the "Jeffree Star x Shane Dawson Conspiracy Collection," the entertainer-turned-makeup-guru's debuting makeup line. Its release was hyped up during Dawson's controversial docuseries The Beautiful World of Jeffree Star. The series revolves around his best friend (and business partner) fellow YouTuber Jeffree Star. In each episode, viewers were teased with glimpses of the upcoming collection.
In the docuseries' concluding 10/29 episode, the collection's official release date was announced for Nov. 1. There were only three days until the release. Days leading to the collection drop, the internet was buzzing with excitement as they figured out what to buy.
On Nov. 1 at 10 a.m. PST, the collection was retailing in selected US, Canadian, UK stores and websites. From its pig-themed makeup bags to its root beer-scented lip makeup to its iconic palettes, the Conspiracy Collection offers fans so much.
As such, everything sold out in under 24 hours. Had it not been for Star's website crashing Friday morning (due to thousands of fans trying to access his page), the collection would've sold out in half the time. Even with one delayed launch and the selling of one million products, most fans revealed they were still unable to purchase anything. This is because people bought products in bulk, their presence contributed to the site lagging, and/or there weren't enough products for Dawson's 23 million fans.
Wanting to give an opportunity to those who missed out, Dawson and Star restocked the collection, but in smaller batches. The agreed upon date was Tues, Nov. 5. While most fans were preparing for the second drop, those ignorant of the news remained in the dark. Thus, the release wasn't as hectic as its predecessor, fortunately for Dawson, Star and lucky fans.
During this restock, I bought the Conspiracy eyeshadow palette at my local Morphe store on Nov. 5. Now I'm no makeup expert, but as a Shane Dawson fan, I wanted to support his cause and I want to get into makeup. With the most-coveted item in the "Jeffree Star x Shane Dawson Conspiracy Collection" in hand, I'm going to be reviewing it.
So here's the Conspiracy palette, the first-sold-out and most-anticipated item:
Conspiracy's versatile shades allows users to experiment with different looks if they so wish. For instance, popular eyeshadow shades such as the creamy, light-brown "Tanacon" and the rich, medium brown "Diet Root Beer" can be used to make a natural look, whereas the shimmery hot pink "Trisha" and bubblegum pink "Pig-ment" shades can make for a bold look.
Listed below are the Conspiracy looks I coordinated with a weeklong of outfits, which uses up each of the eyeshadow shades at least once.
The next day, I experimented with my Conspiracy palette and went with a nice, simple look:
It was also my mom's birthday, and since we were going out to celebrate, I changed outfits and my look:
Following the pink-themed everything day, I messed around with some of the darker shades:
On Friday, I went out to the city, so I wore casual accompanied with a bold eye look:
Wanting to savor fall while it's still here, I wore my most autumn sweater and matched my makeup with it:
On the weekend, I went out and since it was cold, I wore my coziest turtleneck and coordinated my makeup with it:
Since there wasn't any school today, I had more time to experiment with the palette and here's what I came up with:
The Controversy palette has fun and well-formulated shades. Shades are rich in color and their formula is buttery and very pigmented. If any makeup enthusiast – or makeup noob like myself – is willing to spend over $50 on the palette, then this palette is a good buy.
Get it here for $52: https://jeffreestarcosmetics.com/products/conspiracy-palette-pre-order
(Note that as of Nov. 11, pre-orders for the item has sold out, so everyone has to wait for the early-2020 restock).