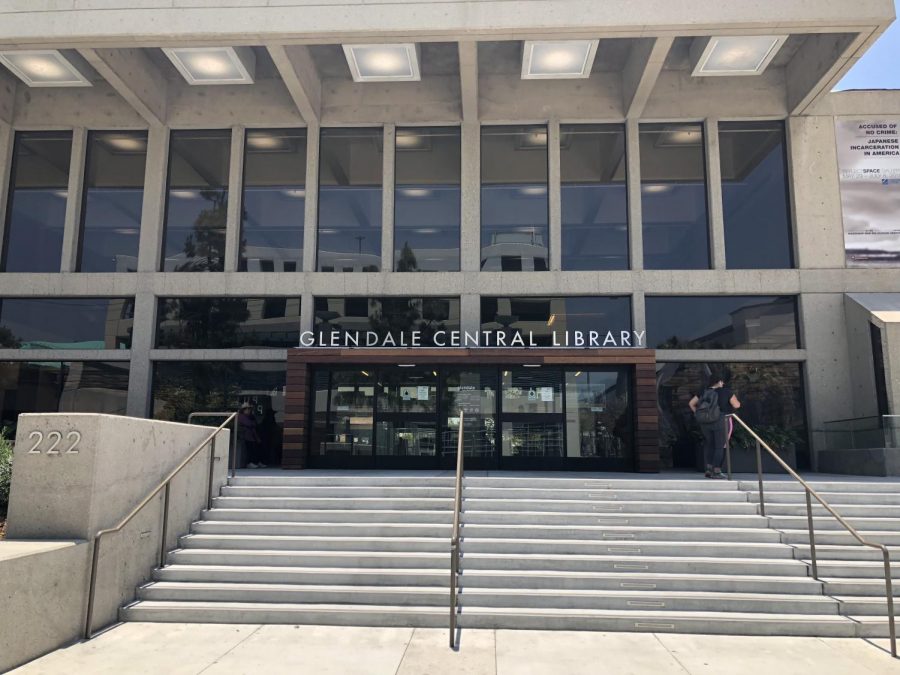 Beaune Calayag
The Downtown Central Library in Glendale came to life as people bustled from one booth to the next. It astonished me to witness the library in such a loud and energetic state. Usually, the library's environment consists of senior citizens leisurely reading their morning newspapers as well as high school and college students intensely studying.
The sound of turning pages and furious typing would occasionally break the dead silence. Howe
ver, today the library had been reborn. The whisper rule had temporarily been lifted and a range of young children and adults expressed their excitement for the MakerFest event.
Glendale Library, Arts & Culture, along with Wana Family Network – Babysitting Exchange, hosted the second annual MakerFest. The event opened to the public on Sept. 21 from 10 a.m. to 2 p.m.
As part of Glendale Tech Week, the library hosts Makerfest as a way to introduce people to technological workshops offered in the city.
"The goal we want to achieve with this event is to let people know that we have these activities in the branches too and all of these workshops are free," said Tiffany Barrios, library manager of Chevy Chase and Montrose branches. According to Barrios, this year's turnout was "bigger than last year's" and more people had the chance to get a taste of what the library has to offer.
Participants in the program would first pick up the MakerFest "passport" and collect stamps by engaging in different activities at the booths. After collecting four stamps, a visitor would trade in their passport for a customized MakerFest 2019 keychain and a ticket to enter the raffle. Because I had emailed the event coordinator beforehand, I registered as a volunteer and received six hours of community service.
On my way to collect stamps, I encountered Shant Sahakian, a Glendale Unified School District (GUSD) board member. "This was an awesome event for students to come together and show off our skills for the public and a great example of technology and art to come together which correlates well with our STEAM program," he said. Spheros art, sewing workshops, stop motion and virtual reality booths at the library corresponded with the science, technology, engineering, arts and math programs at GUSD schools.
Spheros Art is an app designed to help kids get into robotics by controlling a sphere with the Spheros Art app which contains easy-to-control features that allow kids to instruct the paint-covered sphere to roll over paper and create art.
After collecting my stamp from spheros art, I went over to the stop motion Legos booth where children made Lego characters and directed their short Lego film by taking pictures of their Lego characters performing different scenes. The pictures saved to a free app called Stop Motion Lego which allowed children to give voices to their Lego characters. Once they added their desired elements, they played the video that they created. Selena Rivera, a customer service assistant at MakerFest, said that young people especially enjoyed the Lego programs. "We've had a lot of success with the Lego programs, " she said. "It's definitely a kid favorite."
After I collected two stamps from the previous booths, I only had two more stamps to collect before I could trade in my "passport" for a customized MakerFest keychain. In the next room, kids from three to five years old practiced sewing with the paper plates and plastic sewing needles. The instructors taught kids thirteen years or older how to use proper sewing machines. I worked on an exercise worksheet that had numbered dots in which I had to follow the dots under the sewing machine to create a picture of a sewing machine.
To fill the fourth gear on my passport, I moved to the music production studio where I met Ignacio Flores, the Soundspace Manager and Music Production instructor. When all the visitors had taken their seats, he began the lesson by instructing us on how to navigate the free music production software Ableton Live. Once we had covered all the basics, he set us free to produce our songs. "Make your next hit," Ignacio said encouragingly.
Twenty minutes later, he went around the table and listened to our beats. I had shared a computer with my friend, Clark sophomore Carol Rodriguez, and when the music production instructor had listened to our song he said, "That's my song!" This whole time we thought "our song" was fire but we actually stole the instructor's music. After laughing about it for five minutes, Rodriguez and I both agreed that we need more lessons before we could make a hit.
At last, I had achieved my fourth stamp on my "passport" which meant I could finally trade it in for a customized MakerFest 2019 keychain. With an hour left before the end of the event, I still had many booths to explore.
Some schools from GUSD had booths at the library as well. For example, Roosevelt Middle School demonstrated their robotics program. Also, the gaming club from Glendale Community College (GCC) opened a booth for people to explore the world of gaming. Steven Lopez, a representative for GCC e-sports and League of Legends Club, said that their group wanted to show how much e-sports can impact the community. As demonstrated in the gaming room at the library, children and adults bonded over playing games which made everyone visibly thrilled.
Rodriguez took part in playing in the game room and overall she said that she had a fun time. "I didn't expect to enjoy MakerFest since I don't like experiencing new things, but I would definitely come back next year," Rodriguez said.