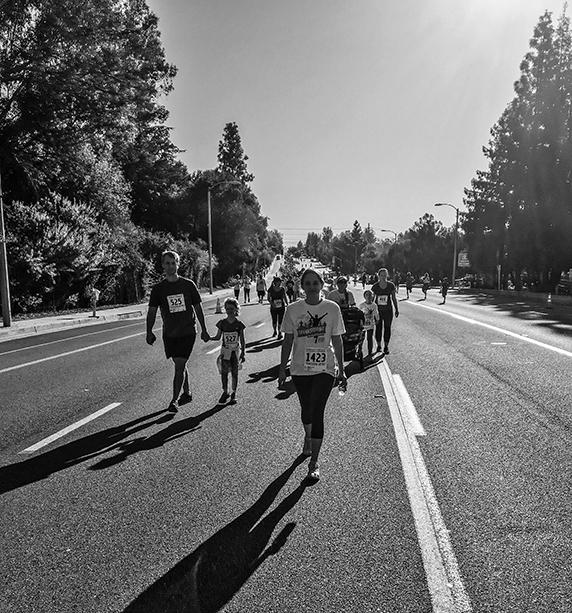 Tenny Vasghanian
With no warning, an air horn was blown and people began running as I trailed behind runners and merged with walkers of the 23rd annual race Thanksgiving Run and Food Drive to avoid being trampled.
As I walked uphill about 20 minutes into the race, I was almost at the halfway point of with my brother and dad when I already saw sweating runners heading downhill to the finish line. Every time I saw how many people were already heading back I felt discouraged yet motivated to finish the race.
I turned around with the rising sun shining in my face to see the long, long road of participants behind me on Foothill Boulevard while continuing my 3-mile trip around La Cañada. I saw participants surrounded by family and friends — some in pajamas and others in animal onesies — together giving back to the community on a day where some people are not able to enjoy a table full of food or people to spend it with. I was happy to see what a difference people can make by partaking in events like these.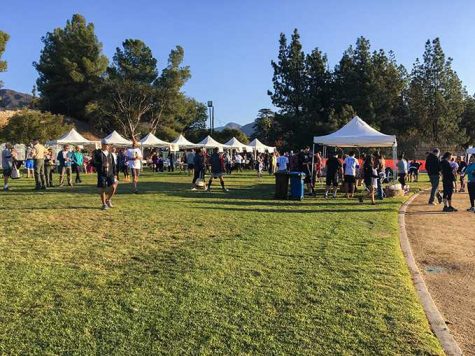 The Community Center of La Cañada Flintridge has organized one of the largest food drives for over 20 years in the Foothill area to give food to those in need on a day that is all about giving thanks.
For runners twelve years old and younger, there was an option to do the "Kids' Mile Run" at 9:30 a.m. The "Kids' Mile Run" awarded children with a T-shirt before the race and an award after crossing the finish line while parents could join alongside with no additional cost. I knew what to expect in terms of the distance because I had done the 5k Color Run in May.
Along with the Community Center of La Cañada Flintridge, various Thanksgiving runs took place in other cities on Turkey Day. According to an article from NBC Los Angeles, cities including Los Angeles, Long Beach, Pasadena, Burbank and Dana Point hold annual runs that each support a similar cause. The Tofurky Trot at the Rose Bowl in Pasadena raises money for animal rescue and supporting the alternative diet of plant-based foods. The YMCA in Burbank on Thanksgiving Day 2016 had over 2,500 runners/walkers.
In addition to running for a great cause, participants and nonparticipants are welcomed to bring canned foods that will be distributed by the Sheriff's Station of La Crescenta to local families in need. According to the Community Center of La Cañada Flintridge, the food collected in 2015 supported over 150 families.
Judy Schlegel, real estate agent at Remax Tricity in the La Cañada branch, has been participating in this event for almost 18 years and brought her daughter Rachel, Schlegel's friend, and Schlegel's grandson. "It's a great cause to help the community and feed the homeless and we are grateful to do this because it's a great event," Schlegel said. "Our company has forever been a sponsor and is proud to be a sponsor to help the community."
The run began at 8:30 a.m. at the park where 1500 registered runners as well as friends and family members of all ages chatted before the announcement would be made to go to the starting line. There were booths for participants to receive T-shirts when registering to run, freshly cut orange slices, sponsored granola bars by KIND, and water bottles.
Around 8 a.m., an announcement was made that a sponsor, Extreme Boot Camp, was going to lead everyone in a warm up before the run. This included various stretches, jumping jacks and exercises to get muscles warmed up. After the warmup, the announcer told everyone to head to starting line to begin the race.
Mary Matti, along with husband Levon Matti and Remax company, participated in this run for the third time. "I started doing this when I met Lev [Levon]," Matti said. "I would recommend doing this because you earn your Thanksgiving meal by getting out of bed and it's just such a great cause."
I stood on the sidewalk by the starting line, anticipating to merge my way through the crowd as the runners were ahead and to join the people who were walking. There was a safety warning from a La Crescenta sheriff that the lanes on the far right of the streets had to be open for drivers; therefore, participants had to maintain some distance from the far right lane. In comparison to last year's run, the roads were completely closed.
After the announcement, the announcer told the large crowd that they would start the race soon.
My brother decided to jog for the rest of the race and left my dad and I while we walked the race. My dad and I begun to run towards the halfway point going downhill. We made a u-turn and I sighed in relief knowing we were halfway done as we started walking uphill heading back to the beginning.
I continued to walk sluggishly uphill and head back to the finish line feeling the cold November air against my ears and turning my nose and cheeks pink.
Matthew Matti, Remax Tricity broker in Glendale, caught up to me when he noticed me struggling and out of breath. He has participated every year since 1997 and was there with his son, Levon Matti, daughter-in-law, Mary Matti, and colleagues and friends from his Glendale branch. When he noticed me slowly dragging my feet towards the finish line, Matti caught up to me and stopped to tell me, "The best thing you can do in any race is to finish," Matti said.
I took a deep breath, I looked at the finish line, and then I began to run. My ears instantly froze as my breath turned cold as I took off. I finished the race feeling accomplished and feeling good about myself. At the end of the day as I ate my Thanksgiving dinner, I was not only thankful for my health, friends, and family, I was thankful for an amazing experience I will surely continue every year.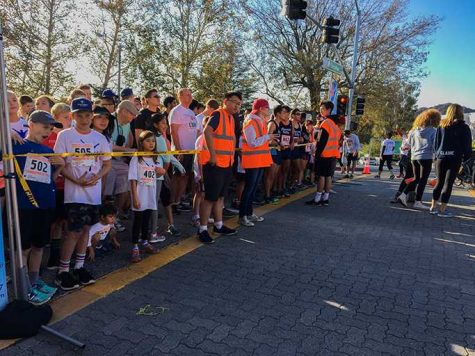 My brother, freshman Chris Vasghanian, said that he enjoyed the experience. "It was a cool thing to do with my dad and sister," Vasghanian said. "I started doing this four years ago with my dad and over time it became a tradition I do every year. I hope to continue this for as long as I can."
Vasghanian had beat his previous record for the run by ten minutes by getting 35 minutes. "I have a goal every year to try to beat my record from the year before," Vasghanian said. "It's cool to see how much I improve athletically while being part of a great event." Vasghanian suggests that "people who like to give back to the community while spending time with friends and family would enjoy doing this [run]."