Wikimedia Commons
For the past year, Jannice Rigor and her classmates in teacher Dominique Evans-Bye's Honors GIS and Remote Sensing class have been researching the impact of trash on sea life. Rigor said that the project has deepened her understanding of the importance of social activism and in the power of using social media.
"Litter Makes Our Water Bitter was a project that I and two other students worked on, observing the movement of trash into our oceans," Rigor said. "We've shared our projects to freshman classes at Clark as well as presented towards adults who work for Esri, a program we use for most of our projects."
"I've also signed up for SOA (Sustainable Ocean Alliance) and they encourage leaders to use social media platforms to spread the message," Rigor said.
Outside of environmental classes at Clark Magnet, social media icons such as YouTuber Mr. Beast have also recently used social media platforms to advance their environmental activism goals.
On Oct. 25, 2019, famous YouTuber Mr. Beast, known for his outrageous challenges, sparked the world with #TeamTrees. A product of Twitter activism, #TeamTrees is a plan to plant 20 million trees in response to the growing problem of global climate change.
Of course, planting trees isn't a quick fix to the Earth's unpredictable climate patterns, the melting ice caps, the thinning of the ozone layer or endangered species going extinct. Still, many social media users have expressed enthusiasm that one man took it upon himself to face the problem.
"I appreciate when people use their platform to spread awareness because it helps inform more people in order to get more people to care about environmental issues," said junior Carmen Guzman. "I have used social media many times to share environmental issues that we learn about in AP Environmental Science with people who I know care about environmental issues."
As a result of the increased carbon dioxide emissions from factories of the Industrial Revolution, scientists have been warning about the growing problem of global climate change; yet not much has been done to decrease its effects. Climate change had been pushed under the rug until a millennial named Jimmy Donaldson and his team decided it is time to get their hands dirty, quite literally.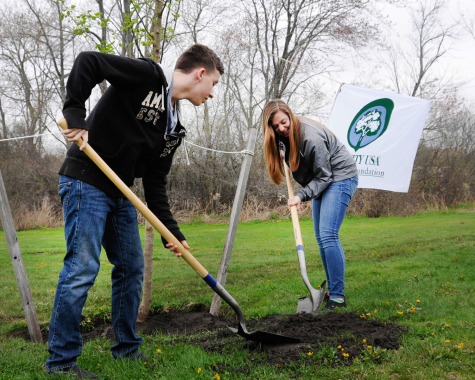 With gloves and a shovel, Mr. Beast (Jimmy Donaldson) set an example for his millions of viewers online and planted a tree. He gained his 35 million followers on YouTube because he listens to what people want. He was known for doing silly challenges like "Last Youtuber To Leave Wins $100,000 challenge" but this time he used his platform and influence for an essential purpose that would positively impact the environment.
Seeing their favorite influencers speaking out on climate change may inspire others to join the cause. After Mr. Beast's "Planting 20,000,000 Trees, My Biggest Project Ever!" video, many other influential Youtubers such as Mark Rober and The Try Guys jumped on the bandwagon. They posted videos explaining that one dollar donated is one tree planted, which quickly rose to YouTube's top trending page. In the description box of every video, there is a button where viewers may donate money to the National Arbor Day Foundation.
"We only have one Earth and it's important we take care of it," said Mr. Beast in the video. "Recently, not so great things have been happening to forests and people just keep making fun of our generation for retweet activism and not actually doing something which is why we created teamtrees.org with the help of the Arbor Day Foundation."
With the help of the Arbor Day Foundation, a nonprofit tree planting foundation, people may donate one dollar and the Arbor Day Foundation will plant one tree. Influencers on social media spread awareness about #TeamTrees, ordinary people donate money and The Arbor Day Foundation plants the trees.
In just 55 days, 500,000 people all over the world donated to the National Arbor Day Foundation and surpassed the goal of $20 million. The Arbor Day Foundation plans to have all the trees planted by the end of the year 2021 with planting locations across the globe such as the US, Canada, Haiti, India and Africa.
Just because the National Arbor Day Foundation and Mr. Beast reached their initial goal of 20 million trees doesn't mean that The Arbor Day Foundation has reached their limit. On the contrary, the new goal is to plant 100 million trees by the end of 2022.
Eventually, the trees will grow to bring back reforestation in barren areas where rising temperatures burned down ecosystems, provide a home for endangered species in California, stabilize the river flow and enrich the soil in India and restore the Kijabe Forest in Africa, according to T&D World.
#TeamTrees is more than a campaign to plant trees. It is an example of the positive impacts of social media which can inspire people to make a change. This time the main goal of the campaign is to grow trees and save the Earth from environmental degradation. People may also work together to accomplish a solution to other problems that require immediate attention.
It doesn't take a large number of people to make a change. Students at school may work together in small groups to begin a project that greatly impacts the environment.
Clark students in Evans-Bye's Honors GIS and Remote Sensing class work together on projects to provide solutions and spread awareness on environmental problems. "Our teacher has opened many opportunities to spread awareness by forwarding our projects to NASA, submitting our projects in competitions, and making us present our projects in conventions," Rigor said.