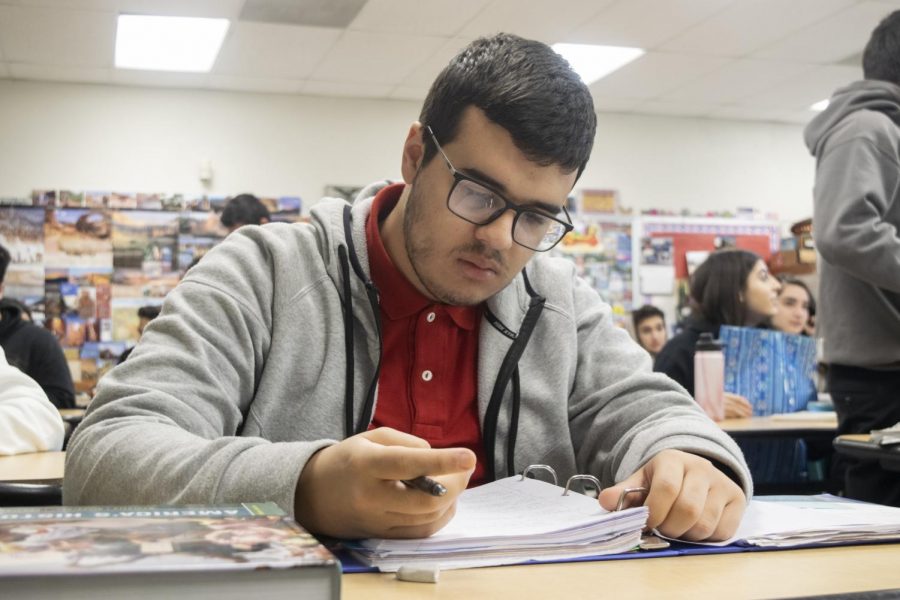 Ani Avakian
Ruben Erkanian is a senior who is taking AP Government and Politics. He, as many Clark students, believes that the new changes made to the College Board have had their pros and cons. "I think the early registrations were good overall, although we had to pay earlier which sucked," Erkanian said. "They don't give us enough time to decide whether or not we want to keep going with the class, whether we want to stick through it or not."
AP classes were created in 1952 as a response to the widening gap between high school and college. In 1956, College Board took over the program and named it College Board `Placement Program. The program became widely popular in high school. In the 2017 school year, 2.7 million students registered to take the AP exam. And the format for the exam has widely been the same in every part of the country, until now.
Announced in early 2018, College Board made some changes to the way their tests are distributed. Firstly, they made fall admission mandatory for all students who want to take the AP test in the spring. They also revised both the English and history scoring rubrics to better fit the new style of tests administered to different subjects. "Essentially there would be no more nine-point scoring guide for those types of tests, and there will be 25 mutiple-choice questions with 20 composition questions," said Conrad Pruitt, a Clark Magnet High School English teacher who teaches AP Language Composition. "There were several major changes made to the other tests as well."
This change comes as a surprise to many students, as now the material used by previous AP teachers cannot be applied to the new generation of test takers. "We do not have enough up-to-date resources for the new types of tests," Pruitt said. "The teachers were sent to a training course, but for me personally it didn't help much."
Francisa Marinas, a senior taking multiple AP classes, also agrees with Erkanian's views on the changes made by the College Board. "I don't think it's good at all," Marinas said. "We don't know if we want to take the test or not and we don't have the sufficient amount of time to decide."
"The early admission is also not good for people who don't have the money at that instant," Erkanian said. Both Erkanian and Marianas believe that despite the recent changes and lack of supporting material, Clark teachers have made good progress with their students. "I feel like the AP courses I've taken, they have prepared me well enough in order to take the test. Not all, but most," Erkanian said. Marinas believes that all of her teachers are doing really well in making big strides to make sure their students pass. "They are all giving us the proper tools despite not having the preferential equipment," Marinas said.
Assistant Principal Dr. Brian Landisi, who administers the AP program at Clark, said that he believes students and teachers do have sufficient resources. "The students have a lot of resources on their hands when it comes to AP classes," Dr. Landisi said. "They have the MyAP portal and AP classroom, where they can log on and all of the resources will be available through the College Board. Every student has access to these materials."
The College Board's website states that they made fall registration mandatory due to the fact that the students who registered in the fall tend to perform better than the ones who registered in the spring. But some Clark teachers believe it to be for another reason. "I think the main reason why they did this was because of the GPA boost. A lot of students take the AP class for the GPA boost, without taking the test. I think this makes the students obligated to take the exam. It discourages the students that take the class only for the boost in GPA," Pruitt said. "As teachers, we want you to do as well as you can, that's the bottom line for AP teachers. We want you to come into the course thinking you will take the exam, and with the help of your teacher might even get a four or a five."
Dr. Landisi believes that students need to think long term. "It shows statistically that even if the students sit through the exam, they'll do better in college. And, in Clark, we emphasize how we're always looking to equip students with skills that will help them take the test. We have 401 students taking 839 AP exams, so I believe that only a handful of students declined to take the test," Dr. Landisi said. "Another misconception is that AP classes don't matter if you're staying local or going to a community college, and that's simply not true. When you do transfer to your four-year university, they follow you. And you could end up saving a lot of time and money."