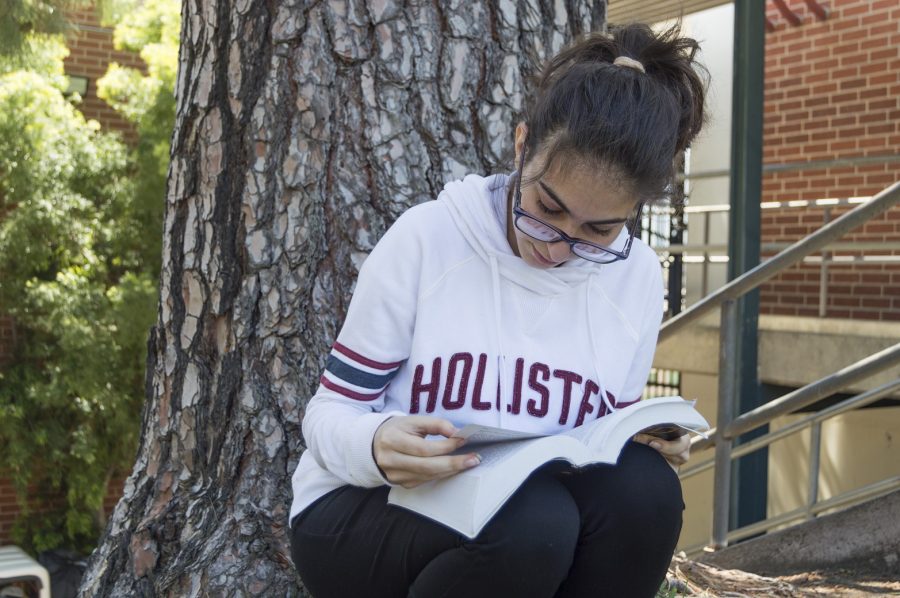 "If you're a good reader, you could teach yourself anything," said librarian Susan Newcomer as she recalls the advice given to her by her father as a little girl. "You were at nobody's mercy, and you don't have to wait for someone to teach you something, dish something out to you, or have to take just whatever you're given."
In schools, students are taught mathematics and science to learn more than the basic knowledge of numbers and principles for them to be able to compete in the work world. However, even though schools can teach students techniques like SOHCAHTOA or the fact that mitochondria is the powerhouse of the cell, there are no classes/activities to teach them things such as empathy, intuition, and better handling their mental state.
Such an activity would be reading. A study done by psychologists David Comer Kidd and Emanuele Castano from the New School for Social Research (NSSR) in New York shows that reading enhances one's ability to better communicate and understand other people — an important key in social relationships.
Unfortunately, according to the National Endowment for the Arts there has been a decline in literary reading (poems, novels, plays) since 1982 which went from 56.9 percent down to 43.1 percent in 2015. One factor in this decline is the addiction to social media such which then leads to the neglect of reading for pleasure.
"The problem that I see is that people who are used to exclusively playing with phones day and night are lacking in the attention span to read longer texts," Newcomer said. "And that includes even the willingness to read longer articles on the worldwide web on the internet."
Research shows that human attention span has fallen from 12 seconds in the year 2000 to eight seconds today. Now humans, considered to be the superior species, have less attention span than a goldfish (nine seconds average).
In addition, not only does reading help improve people's attention span, but it also amplifies one's imagination and memory. Reading requires visualization, as it requires the reader to imagine every detail that is mentioned which in return improves one's memory because it causes the brain to create new brain pathways.
Books are often adapted into movies, and although this may sound like a good way to expose and promote reading, it just further causes people to depend on the film because watching something on the screen is far more convenient than reading words because it requires less time.
"People become so reliant on visual media being shown to them that they've lost the ability to create images for themselves," said English teacher Stephanie Sajjadieh. "And then reading becomes a challenge rather than something that you would do as a relaxation."
For junior Maria Hovakimyan, school work and extracurricular activities have become the reasons why she doesn't bother reading a book anymore before seeing the movie. "I never have
free time to just sit, read, and enjoy a book," Hovakimyan said. To junior Manuel Sardaryan, however, movies are much better than reading books because it keeps his attention. "I can never stay focused on a book unless it's super interesting," Sardaryan said.
One the other hand, reading provides an escape to people like Sajjadieh. Many psychologists believe that the reason why reading works so well is because the mind creates a distraction from all the hassle surrounding people. It is a stress-reliever that allows people to get away from the tedious day-to-day work/school life. "It gives you access to worlds beyond the scope of you're in." Sajjadieh said. "It gives you access to possibilities rather than just reality."
Based on a research done at University of Sussex, reading proves to be the most effective way to combat stress, while listening to music came in second and drinking a cup of tea came in third. A minimum of six minutes reading time reduces one's stress by up to 68 percent, alter one's conscious mind, and ease the muscle tension.
Despite the mental benefits of reading that some might deem have trivial effects, 20 percent of Americans' do not meet the needed reading skill level to earn a decent wage. By 2020, full participation in society and the workplace will require strong literacy skill which have been only achieved by a small percentage of today's population.
"I know that people who read more tend to write better, tend to have larger vocabularies and express their ideas more fluently than those who don't", Sajjadieh said.