Balancing school and dance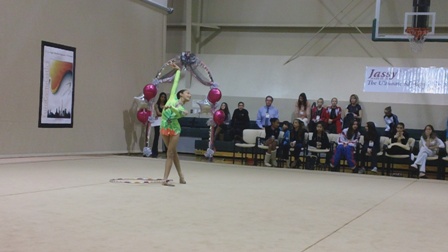 (January 31, 2013) — Sophomore Maya Ramamurthy spends five days a week balancing school and the apparatuses used in rhythmic gymnastics. Ramamurthy has been a rhythmic gymnast since the age of six at the YMCA at Bright Stars Gymnastics Academy.
Even though it takes up most of her time since she practices three hours on each weekday, the sport is her favorite. Ramamurthy's academy participates in competitions with other academies.
"Our season starts in January and goes until July. There's a couple [competitions] every month," Ramamurthy said. "There are some local competitions and some outside of California. For example there's one in Florida and one in Colorado, so they're spread all around the U.S."
The competitions are usually during the weekends but to travel to the location might cause Ramamurthy to miss school. During practices, the avid gymnast and the other members have apparatuses that they use to prepare for competitions. They include the ribbon, ball, clubs and hoop.
"We basically toss them, do things under the toss, and catch again and do leaps, balances, and turns," Ramamurthy said. Ramamurthy said she will most likely continue on her team until she graduates high school and will probably be a coach for her academy in the future. "Rhythmic gymnastics is just beautiful to watch and beautiful to do.It's competitive but I just tell myself to do my best," Ramamurthy said. Rhythmic gymnastics is Ramamurthy's passion and she is willing to push herself.