Poke! I choose you!
Hawaii's alternative for sushi enters the spotlight
Ahi Poke, pronounced as poh-kee, is a classic Hawaiian dish that is currently trending. Ahi Poke is typically made with yellowfish tuna, but recently Poke recipes have been altered to include raw salmon, smoked octopus and various types of bite-size seafood.
I am an aficionado of sushi, and so when I heard about Poke, basically a plate of raw fish, I knew I had to try it." As of now, there are over 40 restaurants, as reported by Google Maps that serve Poke in California. The nearest one for me was Poke N Roll by the prominent Americana. This establishment is a bit cramped, but the tannish bar stools, wooden tables and chalkboard menu give off a pleasing urban vibe. Luckily, there wasn't a long wait and the employees at Poke N Roll were friendly on the day I visited. As soon as I walked in, the staff yelled "welcome." Because it was my first time there, I was a tad overwhelmed by all the options; however, the workers didn't hesitate to lend a hand. Everything looked exquisite behind the glass panel. Eventually my mom and I ordered the half and half plate which consisted of white rice (or brown rice) with salad.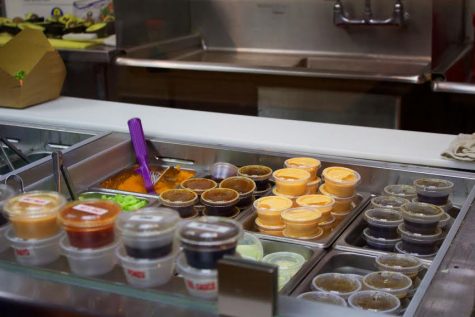 Step two was choosing two of the following types of fish (or more than two): salmon, spicy salmon, albacore, etc. I ended up getting the salmon with shrimp and my mom chose the crab and albacore. The third step was to select the toppings. I topped off my Poke meal with seaweed, fried onions, ginger and green onions. My mom played it safe with ordering just the seaweed. The fourth and final step was deciding the sauce. Because the Spicy Poke sauce had a red heart next to it on the menu, which represents its popularity, we both chose that one.
The Poke was served in a box (like the ones from Whole Foods) and sealed off with an orange sticker. The placement of the food was appealing and it didn't fail to make my mouth water. To say the least, my taste buds were dancing after taking the first bite. However, I admit that there was too much seaweed for my liking, such that I ended up scooping some out. Even so, my mom also agreed that it was delicious. The total came out to be $22.50, a reasonable price (especially for seafood) because each plate was $10.15 plus tax.
Regardless, Poke has left me craving for more so I'll probably be heading back to that small and welcoming restaurant soon.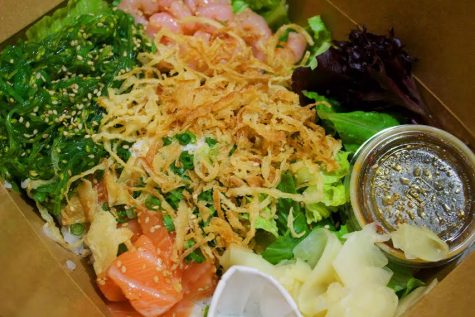 Contact Information:
Poke N Roll
413 S. Central Avenue
Glendale, CA 91210
818-265-3839
https://www.orderspoon.com/pokenroll
Hours:
Open Monday to Saturday from 11 a.m. to 9 p.m., and Sundays from 3 to 9 p.m.