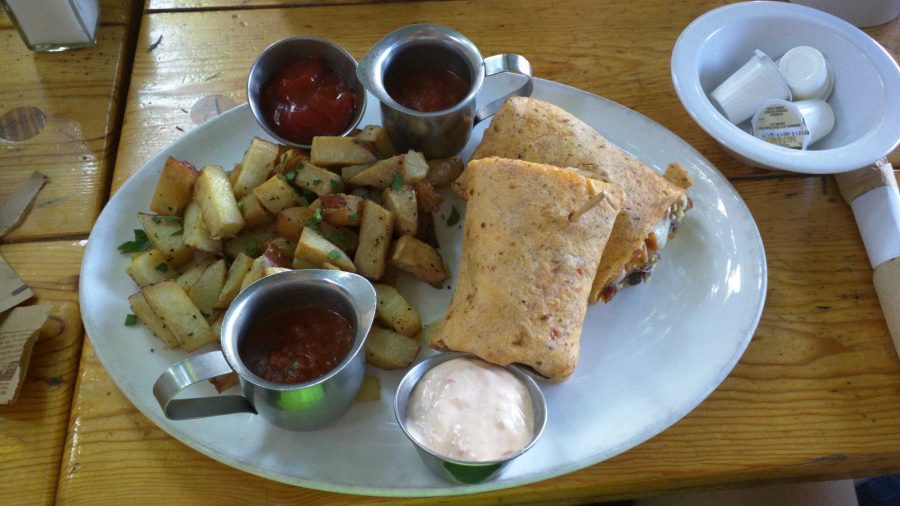 Alec Badalian
Within the bustling streets of Los Feliz lies a hidden gem of fine eatery. In front, a sign composed of light bulbs welcomes guests as they walk under a multitude of towering trees that shade a collection of tables. In the center of all this is a magnificent fountain inhabited by dazzling fish, as well as a collection of charming figurines. This destination is none other than the simple-named, Home.
This small, cozy restaurant serves breakfast, lunch and dinner. Home features basic dishes such as mac and cheese and fancier ones like filet mignon medallions. The food is great, no matter which choice, but if there's one that stands out of the three, that would be their delectable breakfast items.
The breakfast burrito is especially fine. Unlike most burritos, this hold its structure without the help of foil, no matter how much goodness is stuffed inside. In it are eggs, bacon, cheese and black beans, which are perfectly mixed together, ensuring a taste of each with every bite. All of that is wrapped in a homemade tomato-basil tortilla, taking the already wonderful flavors to the next level.
Another marvelous selection would be one of their sweeter dishes, preferably the "really good french toast," as stated by their menu. They use a thick, doughy challah bread, which makes the final texture of the dish nicely balanced. The center is chewy and moist, while the outside is perfectly crispy.
Home has two locations: the aforementioned one in Los Feliz and one in Silver Lake, located on 2500 Riverside Drive. The Los Feliz one is the better of the two, as the overall design and amount of space is simply nicer. Due to the food and atmosphere, Home is without a doubt a must-go dining destination.
Home
1760 Hillhurst Avenue
(323) 669-0211
Monday 9: a.m. – 10: p.m.
Tuesday 9: a.m. – 10: p.m.
Wednesday 9: a.m. – 10: p.m.
Thursday 9: a.m. – 10: p.m.
Friday 9: a.m. – 11: p.m.
Saturday 8: a.m. – 11: p.m.
Sunday 8: a.m. – 10: p.m.
www.homerestaurantla.com/