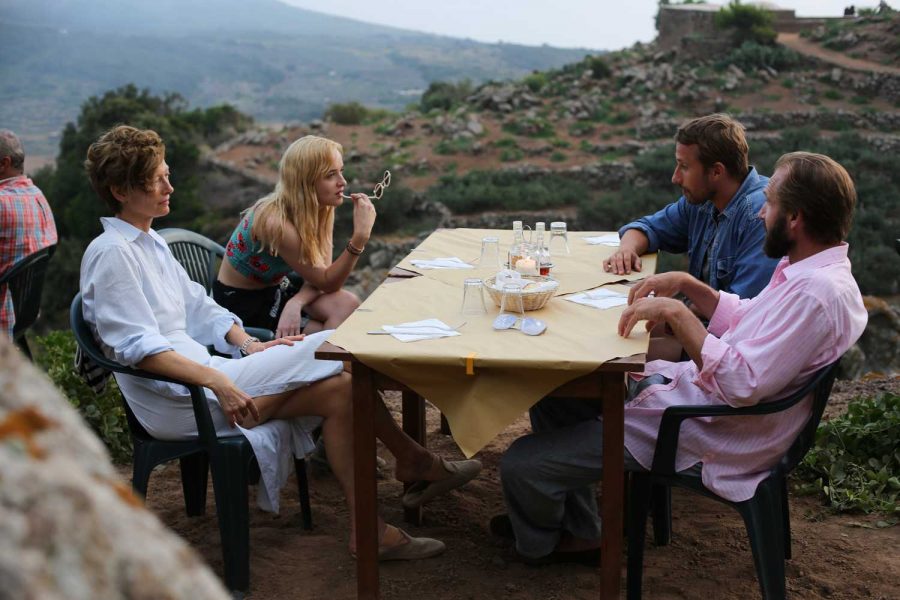 courtesy of collider.com
It's always interesting when a foreign filmmaker tackles an English film, and it's even more interesting when that filmmaker is Luca Guadagnino, director of 2009's terrific I Am Love. Seven years later and 17 years after his last English film, The Protagonists, Guadagnino returns to English cinema with the romantic thriller A Bigger Splash.
Opening in a limited release on May 4 and expanding over the coming weeks, this isolated tale takes place on a quaint little island in Italy as a rock star (Tilda Swinton) who is recovering from a surgery that has hindered her voice and her filmmaker boyfriend Paul (Matthias Schoenaerts) are visited by Harry (Ralph Fiennes) and his daughter Penelope (Dakota Johnson). As details about the past are revealed about each character and their relationships with one another, tensions begin to rise and tempt everyone to do things they shouldn't.
Guadagnino is clearly in his comfort zone here, which is in no way a bad thing, as he is able to do what he does best as magnificently as possible. Shot by his usual cinematographer Yorick Le Saux, Guadagnino basks in the lush scenery around him, examining every aspect of nature either close up or with some breathtaking landscapes. The editing is quite sporadic both visually and audibly, with scenes being abruptly finished throughout. While jarring at times, this particular style does begin to enhance some of the dramatic aspects of the film, which are sold terrifically by each of the the actors. Fiennes in particular is truly great, showing a surprisingly strong comedic presence as well as a complex dramatic one.
The one main issue here is that there isn't much of a cohesive story. The characters are fleshed out perfectly and the basic plot is fully realized, but it never really goes much further than that. With the exception of an unexpected moment or two, the story remains significantly flat and doesn't ever really develop into anything. But so much of this film works that this one flaw never unravels any of the greatness that's in store.
Everything looks absolutely beautiful, the characters are fully developed and brought to life marvelously by the actors and the overall aesthetics are highly pleasing. Guadagnino has delivered yet another unique, mature film and will hopefully create yet another in the near future.