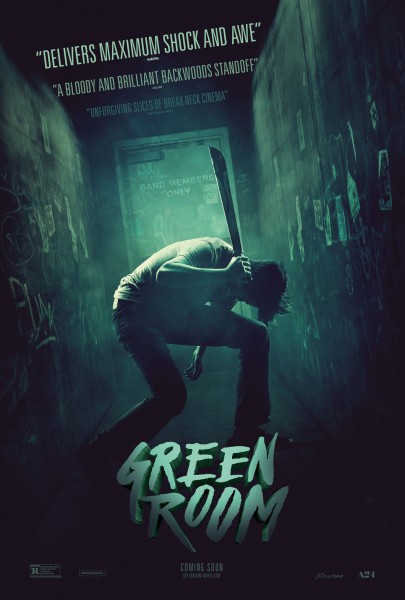 courtesy of collider.com
It doesn't take a $100-million budget and nonstop action to make an intense, heart-pounding film. Although films like that are fun on their own merits, they do tend to become quite glossy at times and never maintain a great deal of suspense. It turns out that the smaller films are the ones that always know how to get audiences to bite their nails and stay on the edge of their seats, and Green Room is the perfect example of this trend in action.
Opening nationwide April 29 after having been in limited release for a few weeks, this little indie is written and directed by Jeremy Saulnier (Blue Ruin) and follows a young punk band called Ain't Rights, which consists of guitarist Pat (Anton Yelchin), bassist Sam (Alia Shawkat), drummer Reece (Joe Cole) and lead singer Tiger (Callum Turner). Stuck in financial crisis, the band takes a well-paying gig that ends up being at a Neo-Nazi bar owned by Darcy Banker (Patrick Stewart) and filled with a whole gang of maniacal skinheads. When Pat witnesses a murder no one was supposed to see, the band gets trapped at the bar alongside Amber (Imogen Poots), the bandmate of the victim. What ensues is a deadly scenario for the punk rockers and an expertly crafted cinematic experience for the viewer.
Saulnier has pieced together an incredibly tense, contained thriller here that is packed with sharp, clever dialogue, terrific performances and wicked gore. The way these characters speak is so fascinating and intriguing, It almost feels as if they're speaking their own language — not to say they aren't speaking English, but their diction is just incredibly unique and engaging. The actors handle all the dialogue with confidence and sense of bravado that's necessary to make this material work. Whether it's the seasoned performers like Stewart or the breakout stars like Cole, every performance is tuned to perfection, making each character highly interesting.
The tension just never lets up, with Saulnier keeping things very tight for the most part with a few instances of more expansive scenery. When the action gets heightened, things get pretty gruesome, yet never overbearingly so. It's the kind of midnight-movie gore that cinephiles will definitely be pleased by, as it always had the audience gasping in their seats.
This is an extremely taut thriller from start to finish that not only provides bucketloads of suspense and thrills, but some amazing dialogue and invigorating performances. Saulnier makes smart decision after smart decision throughout, from his staging of the action to the major plot points, one involving a dog towards the end that's simply beautiful. What a great sophomore feature for an up-and-coming writer/director who's bound to get some more attention as the future comes closer.